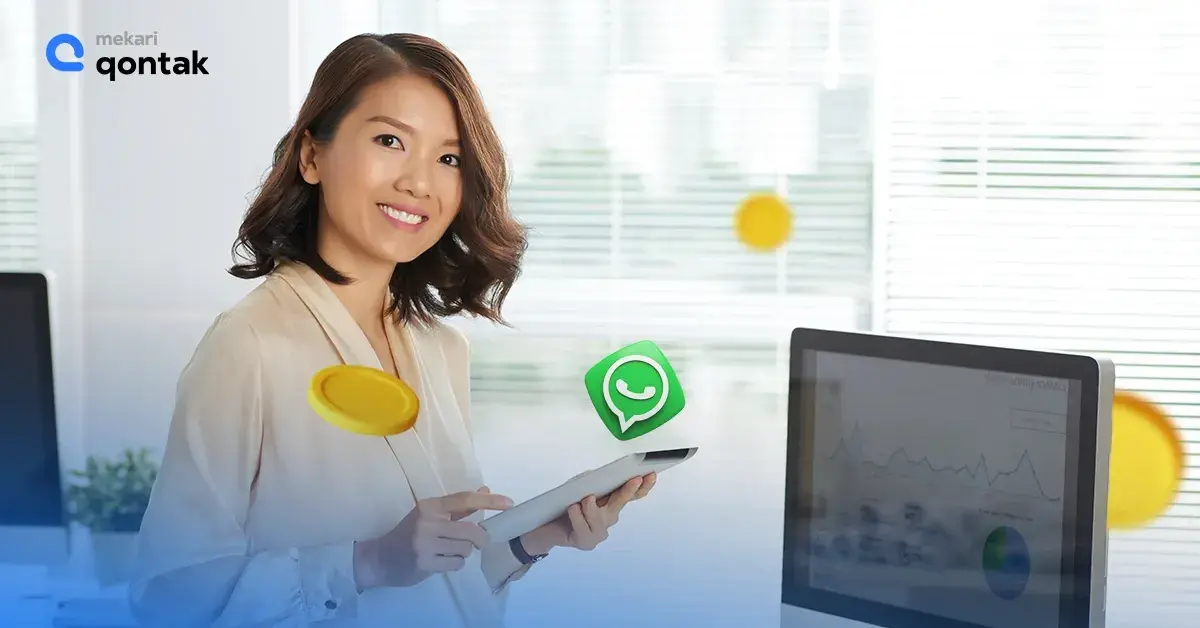 If you're a business owner looking to enhance your customer communication, you might consider using WhatsApp Business. However, one of the questions that may come to mind is: "How much does a WhatsApp Business account cost?"
Whether you're a small business owner or run a larger corporation, it's impowhatrtant to understand the pricing options available for WhatsApp Business accounts.
In this article, we will explore the various WhatsApp Business pricing plans for businesses of all sizes, so you can decide which plan best suits your needs.
---
Understanding the Types of WhatsApp Business Account
There are two types of WhatsApp Business accounts:
WhatsApp Business App
WhatsApp Business is an app for small business owners that they can download on their Android (Google Play Store) or iPhone (App Store).
The app helps businesses interact with their customers in a better way by providing tools to manage and quickly respond to messages. It simplifies customer service and allows businesses to offer better customer support.
WhatsApp Business API
WhatsApp Business API is a WhatsApp application that uses API technology to help businesses receive and respond to messages from their customers on a larger scale. It's designed for medium to large businesses that want to use WhatsApp with multiple users.
With the help of auto reply, chatbots, and interactive messages, the API can automate business and customer communications.
Additionally, it allows businesses to create personalized communication flows to increase customer engagement via WhatsApp.
Read More: What is WhatsApp Business API and How to get it
---
WhatsApp Business Account Pricing
If you're considering using WhatsApp Business or WhatsApp Business API for your business, pricing is one important factor to consider.
The cost of using these services can vary depending on a few different factors, so it's important to understand the pricing structures for both the WhatsApp Business App and WhatsApp Business API. Here's what you need to know:
WhatsApp Business Pricing
The charges for the WhatsApp Business account are totally free, and it can be downloaded from the App Store for iPhone and the Google Play Store for Android devices.
Once downloaded, they can create a business profile and start using the various tools provided by the app to communicate with their customers more effectively.
The app offers features such as WhatsApp auto reply messages, quick replies, and labels to help businesses manage and respond to messages efficiently.
WhatsApp Business API Pricing
WhatsApp Business API pricing typically involves a combination of set-up costs, monthly service or subscription costs, and message costs. The setup fees vary depending on the provider and the complexity of the setup required.
Set up costs
Set-up costs for WhatsApp Business API refer to the initial fees associated with getting started and configuring the API for your business. The specific set-up costs can vary depending on the provider and the complexity of the set-up required.
These costs cover the initial implementation, integration, and configuration of the WhatsApp Business API into your existing systems or platforms.
Monthly costs
Monthly costs for WhatsApp Business API can vary depending on the provider that you use. For example, Mekari Qontak is an official WhatsApp Business Solution Provider (BSP) that offers a subscription for WhatsApp Business API starting at US$55 per month.
This subscription includes advanced features such as masking and a certified WhatsApp green tick, personalized messages, endless WhatsApp broadcast messaging, automated contact data storage, and more.
Different providers may offer different features and pricing plans, so it's important to research and compare before choosing a provider for your business.
Also Read: What is WhatsApp BSP and How to Partner with Them?
Message costs
Message costs, or costs per conversation, refer to the fees charged for sending messages through the WhatsApp Business API. The pricing may vary depending on the country and the provider.
There are two types of conversations: user-initiated and business-initiated. Each conversation type is charged at a different rate.
User-Initiated conversation (UIC) is a conversation that initiates in response to a user message.
Business-Initiated conversation (BIC) is a conversation initiated by a business sending a user a message outside the 24-hour customer service window.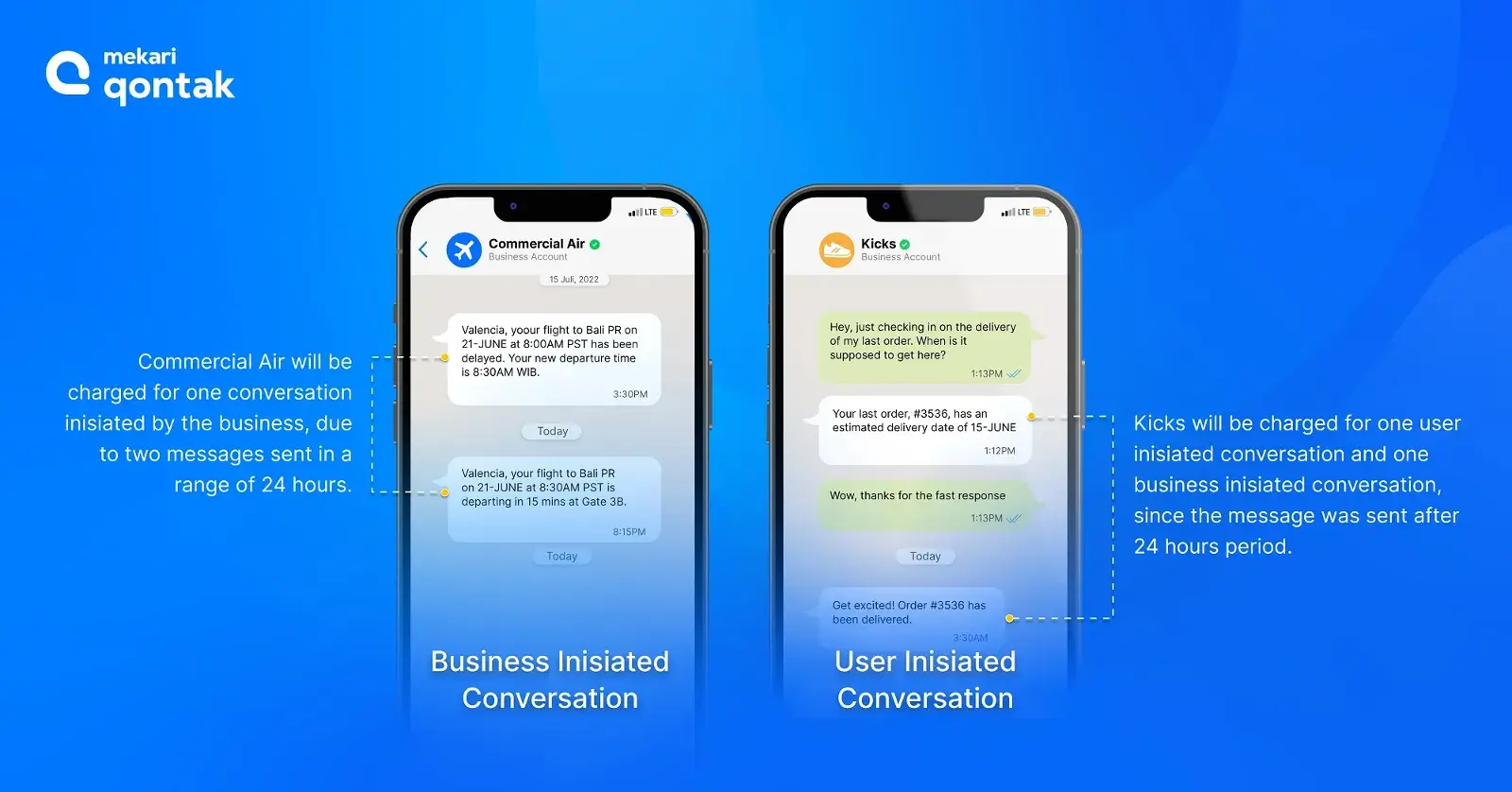 However, the first 1,000 conversations each month are free for each WhatsApp Business account (WABA). These conversations can be either user or business-initiated.
Even if a WABA has multiple numbers attached, the free tier threshold remains at 1,000, as provided at the WABA level. The free tier is refreshed monthly based on the timezone associated with the WABA.
All conversations, except free entry point conversations, are measured in fixed 24-hour sessions. A conversation starts when the first business message in a conversation is delivered, either initiated by the business or in reply to a user message.
Find more about WhatsApp Business pricing here.
---
WhatsApp Business Pricing Updates
Starting June 1, 2023, the WhatsApp Business Platform introduces conversation-based pricing. Businesses will be charged per 24-hour conversation, categorized as utility, authentication, marketing, or service conversations.
Charges are based on the template category used to initiate the conversation. Multiple templates of the same category in an open conversation incur no extra costs. Service conversations are initiated when no other conversation is open.
Pricing varies by country or region. For more details, refer to WhatsApp's pricing explainer document.
---
WhatsApp Pricing Calculator
WhatsApp calculator is a tool that helps businesses estimate the cost of using WhatsApp Business API for sending and receiving messages with their customers.
There are several online calculators that can help with this, such as Mekari Qontak's WhatsApp Pricing Calculator. These calculators consider the number of conversations, the category of the messages, and the country or region of the business and the customer.
Using the WhatsApp calculator is also very easy; you only need to select the country or region of the business and the customer, then enter how many estimated messages (BIC or UIC) you want to use. Then, the calculator will automatically calculate the estimated costs needed for your business to use the WhatsApp API.
---
How to get a WhatsApp Business account?
Setting up a WhatsApp Business account is a simple process that can be done in just three steps.
Download and install the WhatsApp Business app from the App Store or Google Play Store.
Open the app and follow the on-screen instructions to set up your account, including verifying your phone number.
Set up your business profile by providing information about your business and adding a profile picture and greeting message. Once your account is set up, you can use it to communicate with customers and manage your business.
Read more: 3 Easy Steps to Create WhatsApp Business Account and 17 Benefits of Using WhatsApp for Business
---
How to create a WhatsApp Business API?
Here are the three easy steps to follow to get WhatsApp API and start communicating with your customers:
Set a phone number that can receive calls and SMS from international numbers.
Register your phone number with an official WhatsApp Business API partner such as Mekari Qontak.
Verify your business account in Facebook Business Manager with necessary data such as company name, website URL, industry, field of application, and Facebook Business Manager ID.
After completing these steps, you can use WhatsApp API for your business.
---
Why use Mekari Qontak?
In summary, WhatsApp Business can be a cost-effective tool for businesses to communicate with their customers. The WhatsApp Business app is free to download and use, while the WhatsApp API for Business will cost you around $55 per month or more, depending on the provider and the set-up complexity required.
However, it's important to note that using the API will depend on several variables or components, such as set-up costs, monthly costs, and conversation-based pricing. Therefore, it's essential for businesses to carefully research and compare different providers and pricing plans before choosing one that suits their needs.
With Mekari Qontak, businesses can have peace of mind knowing they are working with a trusted and experienced provider. Not only offer affordable pricing and plans, but Mekari Qontak also provides advanced features such as WhatsApp green tick, endless WhatsApp broadcast messaging, chatbot, and many more.
Don't miss the opportunity to take your customer communication to the next level with Mekari Qontak. Get started today!
Reference: