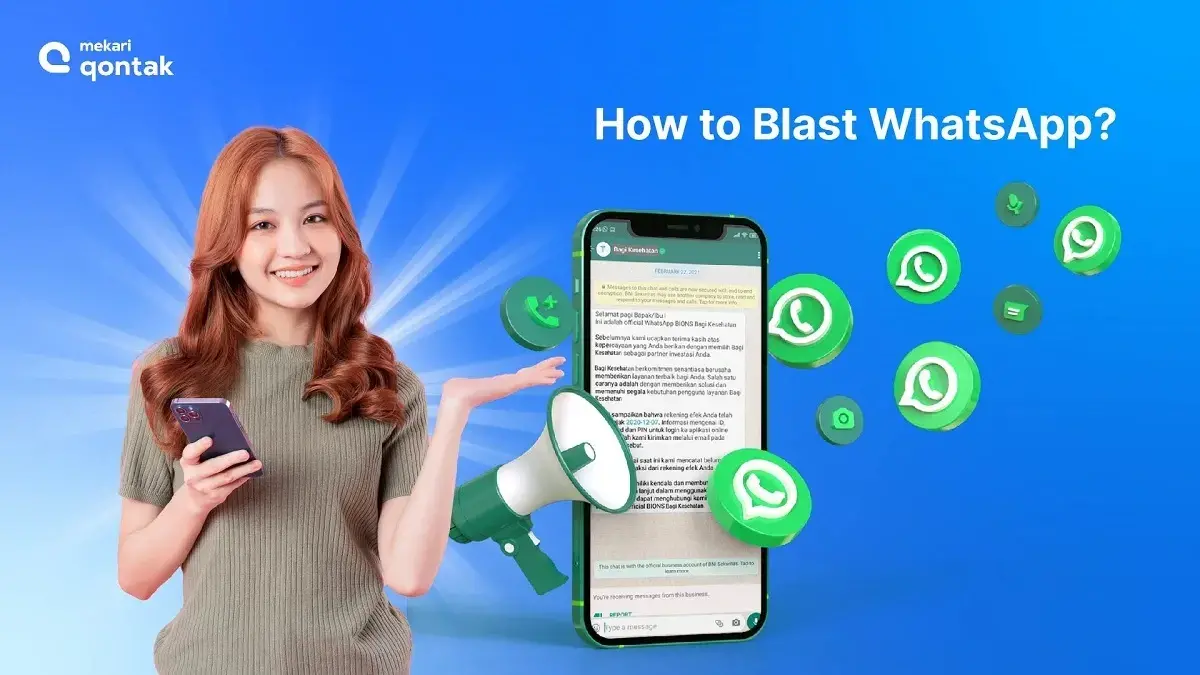 Did you know that WhatsApp has a feature that allows you to send blast messages on WhatsApp?
This feature is called WhatsApp blast.
However, how to blast messages on WhatsApp? Let's find out more!👇
---
What is WhatsApp Blast?
WhatsApp Blast is a feature of the WhatsApp Business API that allows you to send bulk messages without having to save the user's number in contacts.
You can use the WhatsApp blast feature to reach more customers. The WhatsApp blast system is also secure because it comes with end-to-end encryption.
---
WhatsApp Business, Explained
WhatsApp has two versions of WhatsApp for business, WhatsApp Business and WhatsApp Business API.
Then, what is the difference between the two?
The WhatsApp Business API is an upgraded version of WhatsApp Business and comes with an application programming interface (API), so it has more advantages than the usual WhatsApp Business.
The WhatsApp API provides more features, such as the WhatsApp blast feature that you can't find on a regular WhatsApp business account.
On WhatsApp Business, you can only send bulk messages to 256 contacts. Meanwhile, with the WhatsApp API, there are no contact restrictions for sending blast messages. It means you can send messages to hundreds or even thousands of contacts.
WhatsApp Business API also allows you to send messages without saving contacts. And you can send personalized messages according to your needs.
---
Can You Blast Messages in WhatsApp Regularly?
The answer is yes. You can blast messages in WhatsApp regularly as long as you stick to WhatsApp Business Messaging Policy.
---
How to Get an Official WhatsApp Business?
You can only get Official WhatsApp Business through a Business Solution provider (BSP) or Official WhatsApp Partner in your country, such as Mekari Qontak.
Mekari Qontak is the Official WhatsApp Partner who has been trusted by more than 3,000 businesses to provide the WhatsApp API for them.
Mekari Qontak also provides various other sophisticated solutions that accelerate your business and build better customer experiences with fast services and integrated applications.
---
4 Easy Steps to Blast Messages on WhatsApp Business!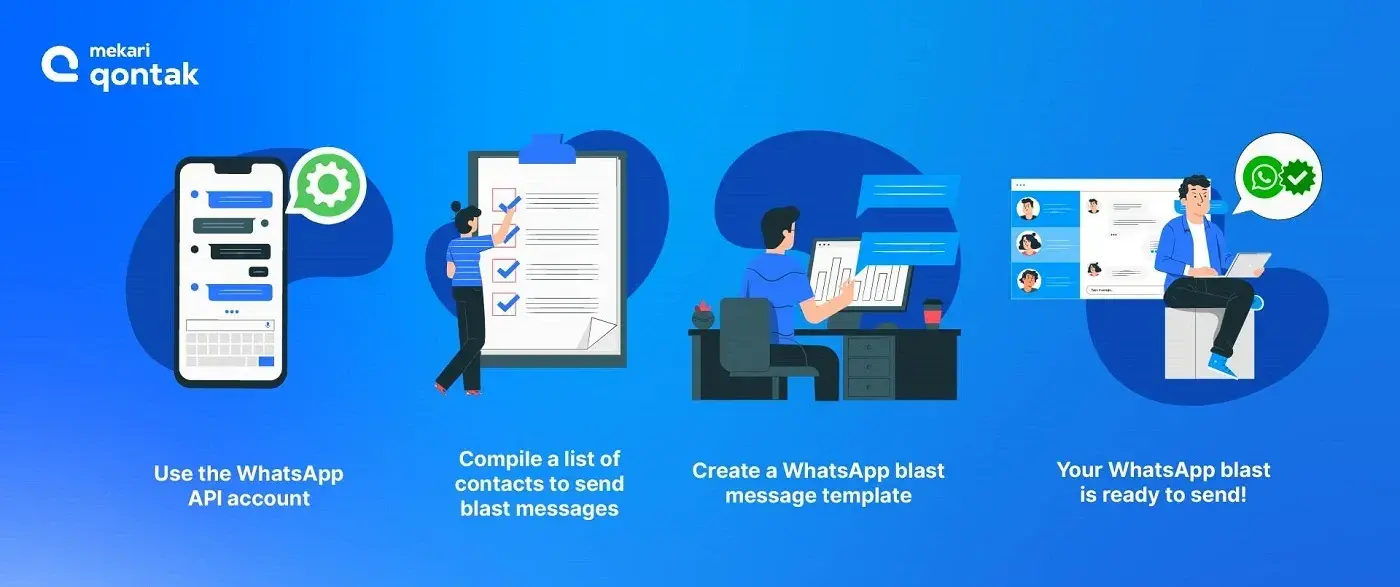 How to blast messages in whatsapp business?
1. Use the WhatsApp API account
Make sure your account has been verified by WhatsApp API. If you don't have a WhatsApp Business API account, then you can follow the following steps:
Set up the WhatsApp number you want to use
Register the WhatsApp number to official WhatsApp partners such as Mekari Qontak
Prepare supporting documents for the business verification process
Verify Facebook Business Manager, Mekari Qontak team will help you to get Facebook Business Manager verification
Wait for the verification process to complete
WhatsApp blast is ready to use
2. Compile a list of contacts to send blast messages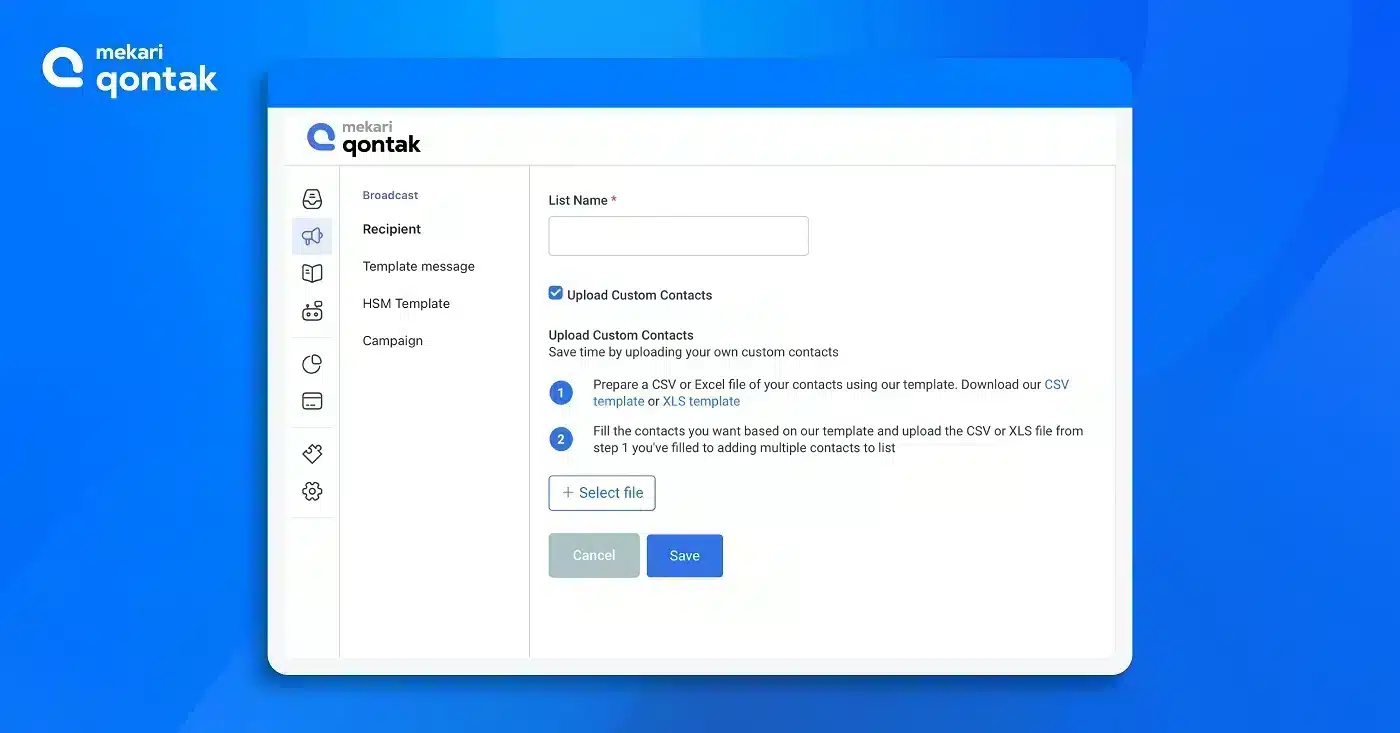 Select the contact numbers and add them to the contact list.
If you have saved these numbers in Excel or CSV, you can directly upload them to the Mekari Qontak system. But if not, you can enter it manually.
3. Create a WhatsApp blast message template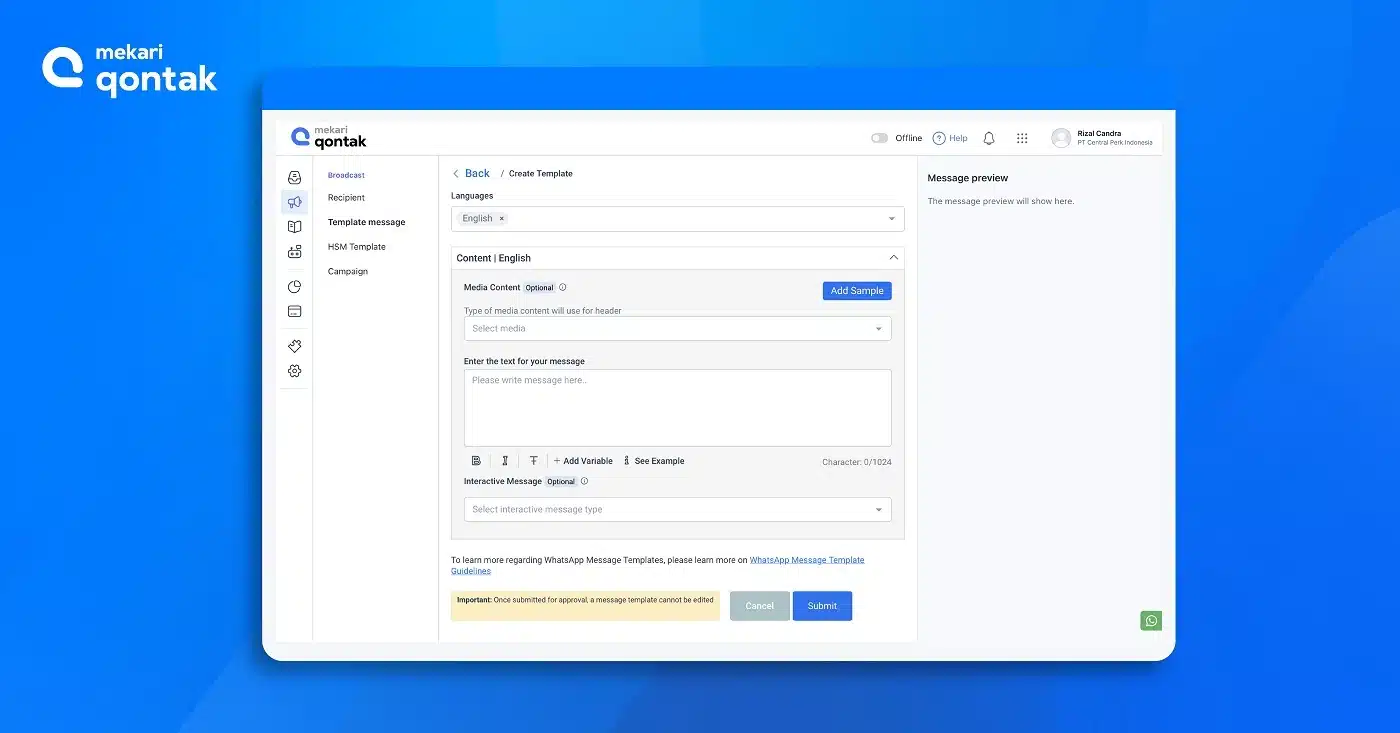 Next, you can create a blast message template. The message can contain promotions or other information in writing, pictures, videos, or documents.
However, the message must not contain hard-selling sentences such as discount, promo, or buy 1 get 1.
In addition, you must create this template at least 1×24 hours before sending the message. The reason is the template will receive a review by WhatsApp to ensure no violations.
4. Your WhatsApp blast is ready to send!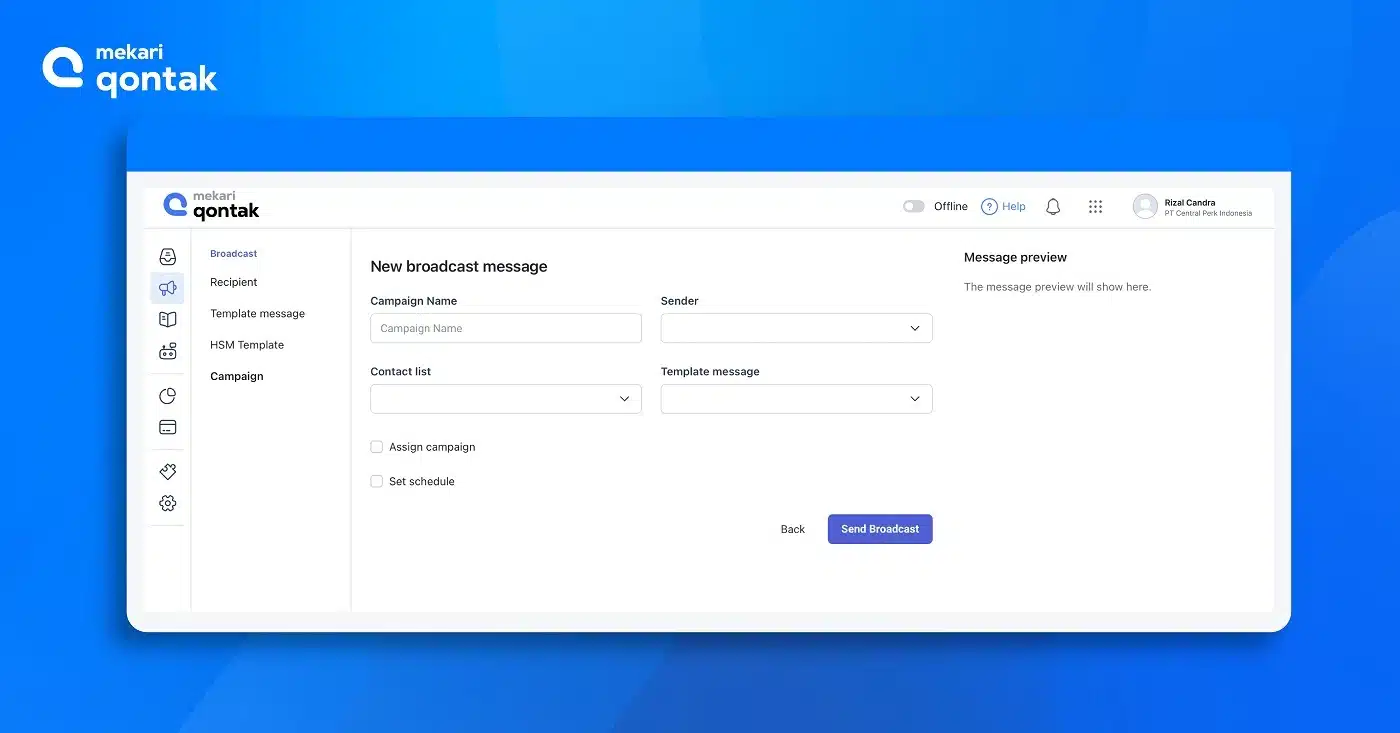 After WhatsApp approves your template, click 'Submit' to send the blast message to the contact list you created earlier.
Wait a few minutes, and the system will work by automatically sending all of your messages.
---
How much does it cost to blast WhatsApp?
Meta won't charge you for the first 1,000 conversations each month. So it is free for the first thousand conversations each month.
This term applies to both conversation schemes, User Initiated Conversation (UIC) and Business Initiated Conversation (BIC).
UIC is a customer-initiated conversation, and businesses are free to reply to customer messages 24 hours a day.
BIC are conversations initiated by businesses outside the 24-hour customer service period from the customer who sends the message.
Meanwhile, the WhatsApp blast price for UIC starts from IDR 275 per message. BIC starts from IDR 460 per message.
---
Claim Your Free Account Demo!
Mekari Qontak provides a free demo account that you can use to get hands-on experience with the WhatsApp blast feature.