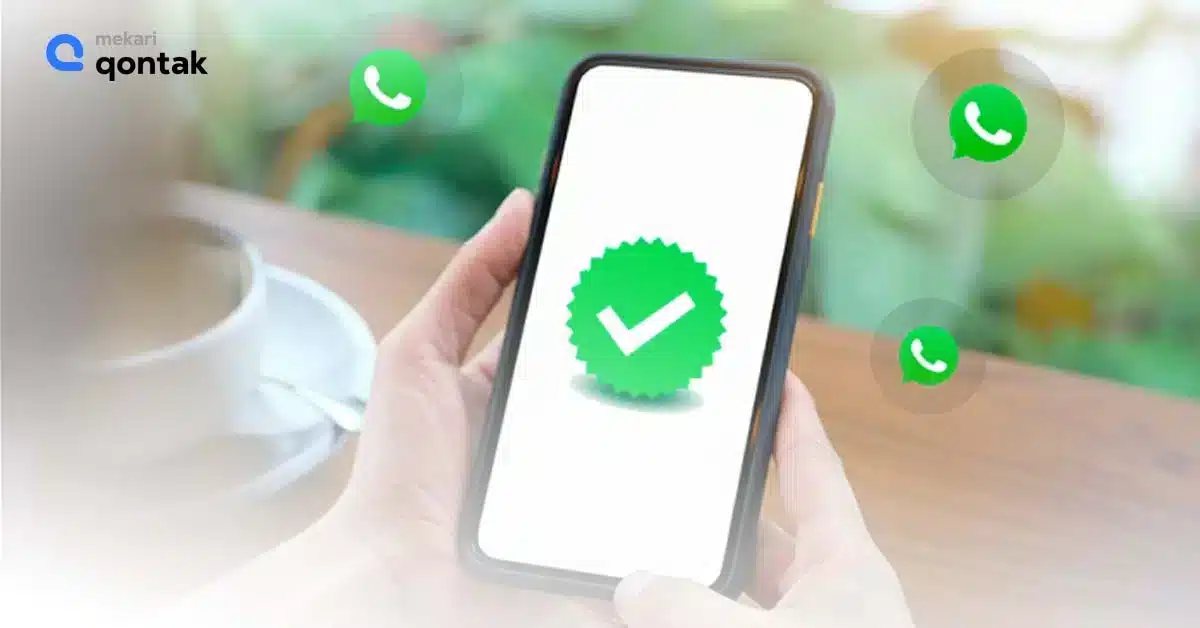 You may already know about WhatsApp Business, but what about the WhatsApp Business API?
The WhatsApp Business API is different from the WhatsApp Business application that you can download on the App Store or Play Store.
But what's the difference, and how to get the WhatsApp Business API?
Let's find out more about the WhatsApp API below!
---
What is WhatsApp Business API?
WhatsApp Business API is a WhatsApp application with API (Application Programming Interface) technology to help businesses receive, respond to messages, and reach customers on a large scale.
The WhatsApp API is designed for medium to large businesses that want to use WhatsApp with multiple users.
One of its advantages is to automate business and customer communications with automatic replies, WhatsApp chatbots, and interactive messages.
WhatsApp Business API also helps businesses to create personalized communication flows according to the needs of their customers and increase customer engagement via WhatsApp.
---
The Types of WhatsApp Business Accounts
There are two types of WhatsApp Business accounts:
1. Business Account
Any account that uses the WhatsApp Business platform or WhatsApp Business app is a business account. You can download a business account free from the App Store and Google Store.
2. Official Business Account
An official business account (OBA) confirmed as a prominent and authentic brand by WhatsApp.
The company name is displayed even if the user has not added the company to their address book. Official business accounts have a green tick verification in their profile and chat thread headers.
This account only can be obtained through an Official WhatsApp Partner or Business Solution Provider (BSP) such as Mekari Qontak.
Users will see different information about their accounts, depending on the type of account.
If the user has a company phone number stored in their contact list, the contact list name will always be displayed. Your phone number will still be visible in your Contacts view.
---
WhatsApp Business API: The Components
Profile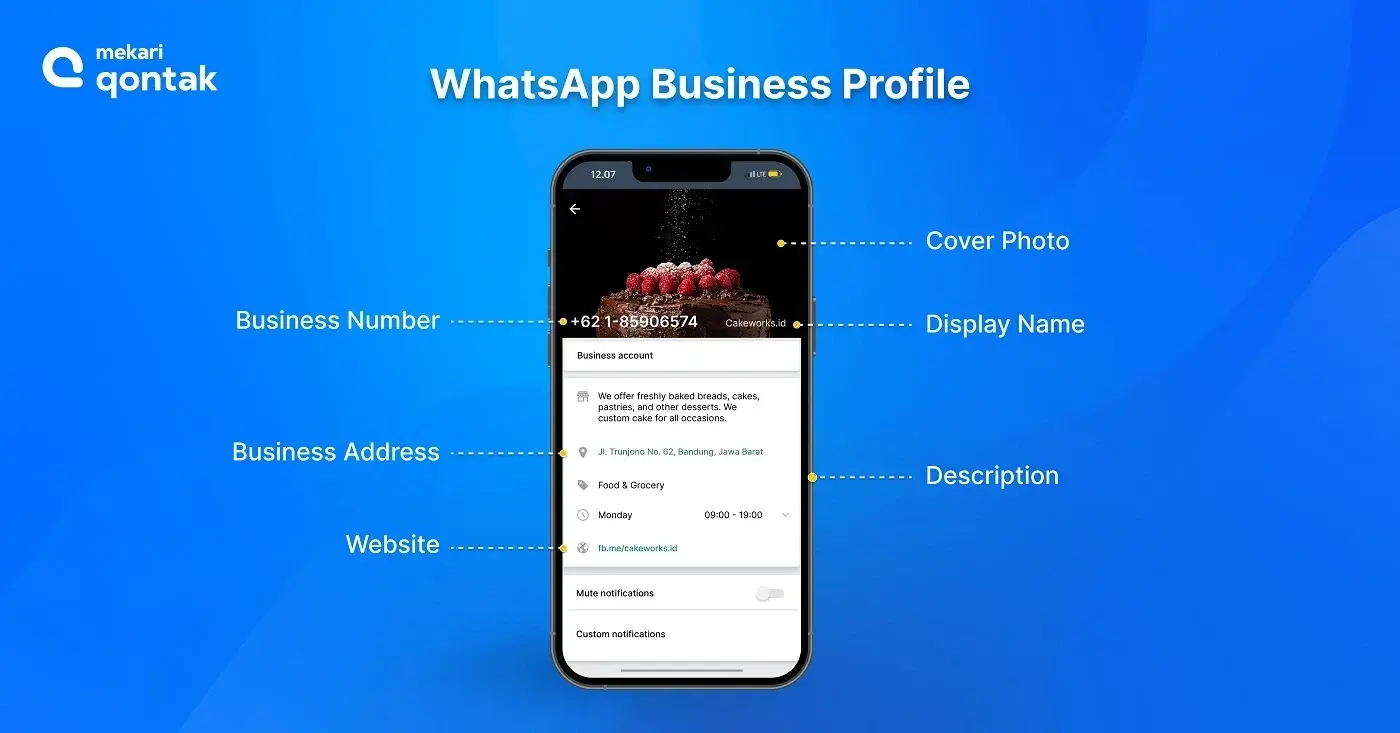 WhatsApp Business Profile gives customers more information about your business.
Also, businesses can easily optimize their business profile by updating their cover photo, description (about the service), business address, email & website.
Messaging Tier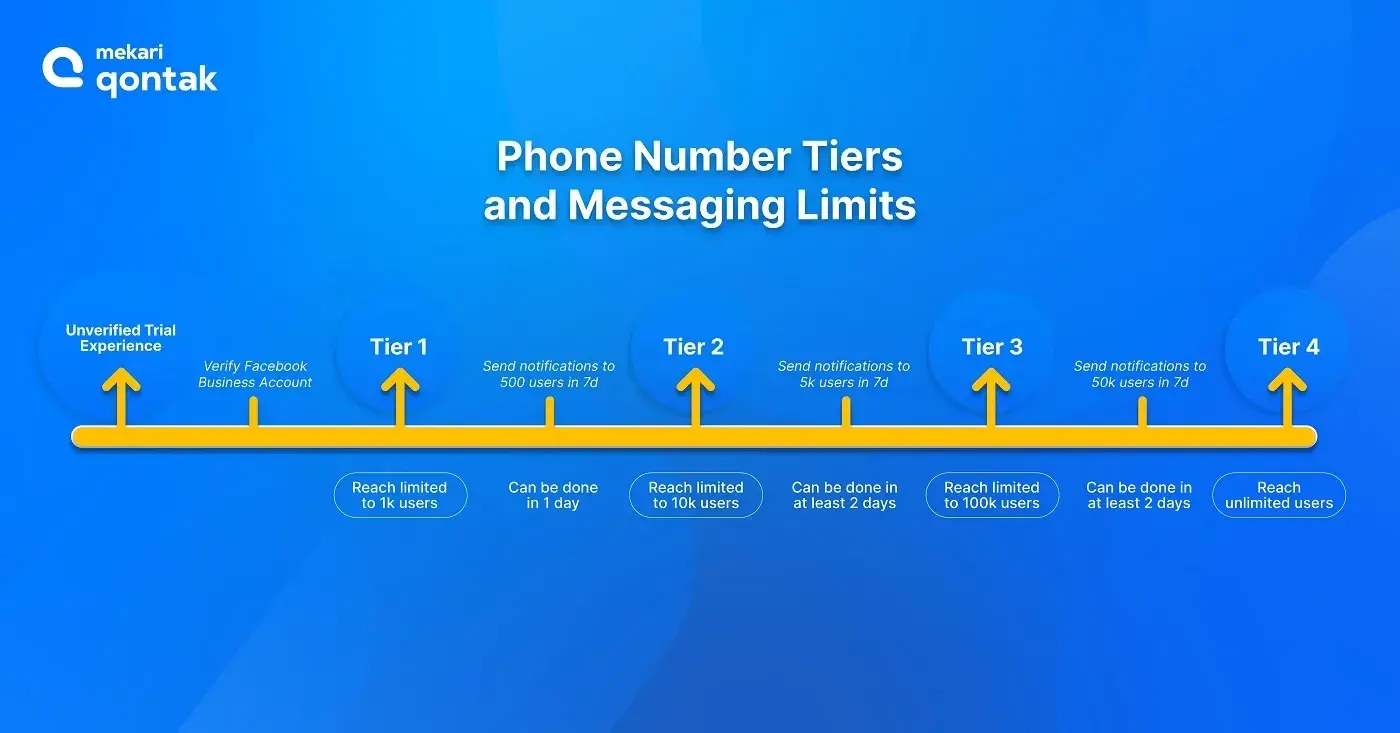 Your WhatsApp API account's phone number level will determine your limitation of sending the message.
Five tiers of phone numbers in the WhatsApp Business API:
Unverified Trial Tier: Message 50 unique Contacts within a rolling 24 hours & own up to 2 numbers
Tier 1: Send messages to 1k users in a rolling 24 hours & own up to 25 numbers
T2: Send messages to 10k users in a 24 hours
T3: Send messages to 100k users in 24 hours
T4: Send messages to unlimited users within a rolling 24 hours
Message-sending limits only apply to business-initiated messages. Depending on the BSP, the business will start from the Unverified Trial Tier or Tier 1 after registering their phone number.
To change from the Unverified Trial Tier to the next level, you must verify your Facebook Business Account.
As for businesses on T1, T2, and T3, the number will be upgraded to the next tier when they reach the messaging limit of the current level. Provided they have a good quality rating and non-Flagged status.
Phone Number Quality and Status Ratings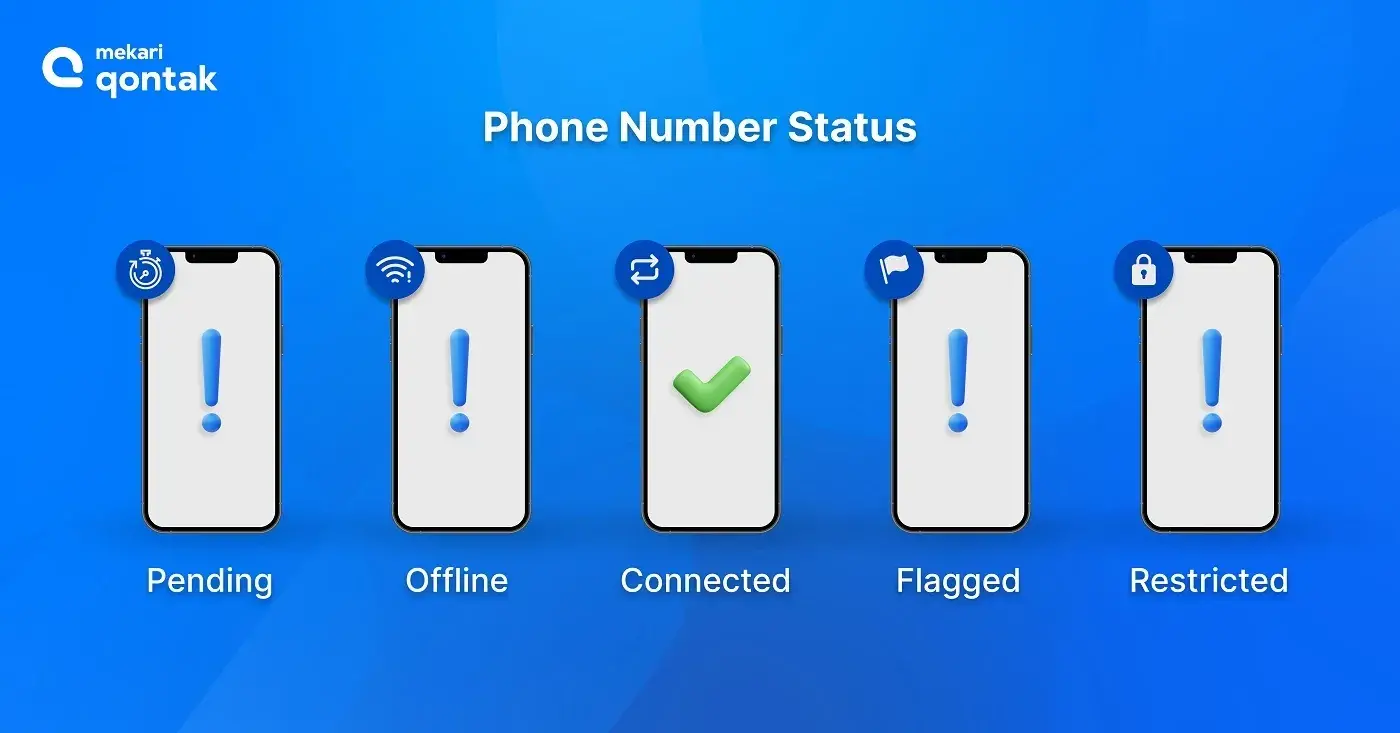 Phone number quality ratings and statuses indicate customer satisfaction with the quality of your business conversations. You can find all of these insights on the Business Manager Facebook page.
The quality rating is determined by several factors, such as the number of blocks by customers, the frequency of outgoing messages (notification messages or promotions), and response time. Three phone number quality ratings:
High (green)
Medium (yellow)
Low (red)
To avoid being banned and ensure you get a good quality rating, you need to send high-quality, relevant messages to your Contacts.
If your device is blocked, the quality rating of your phone number will drop to a Moderate or Low rating.
Quality rating changes may affect the status of your phone number. There are five phone number statuses on the WhatsApp API in total:
Pending: Status before the Trade Policy check is complete
Offline: Status when a business fails a Commerce policy check or cancels their WhatsApp API Account
Connected: Default state
Flagged: Status when the quality rating reaches Low. If it increases to Medium or High within seven days, the status will return to Connected. Otherwise, WhatsApp will revert your phone number status to Connected but impose a lower message limit on your number.
Restricted: Status when a business reaches its messaging limit while having a poor quality rating
---
Types of Messages in the WhatsApp API
In the WhatsApp Business API, there are two types of messages that are allowed:
Session Messaging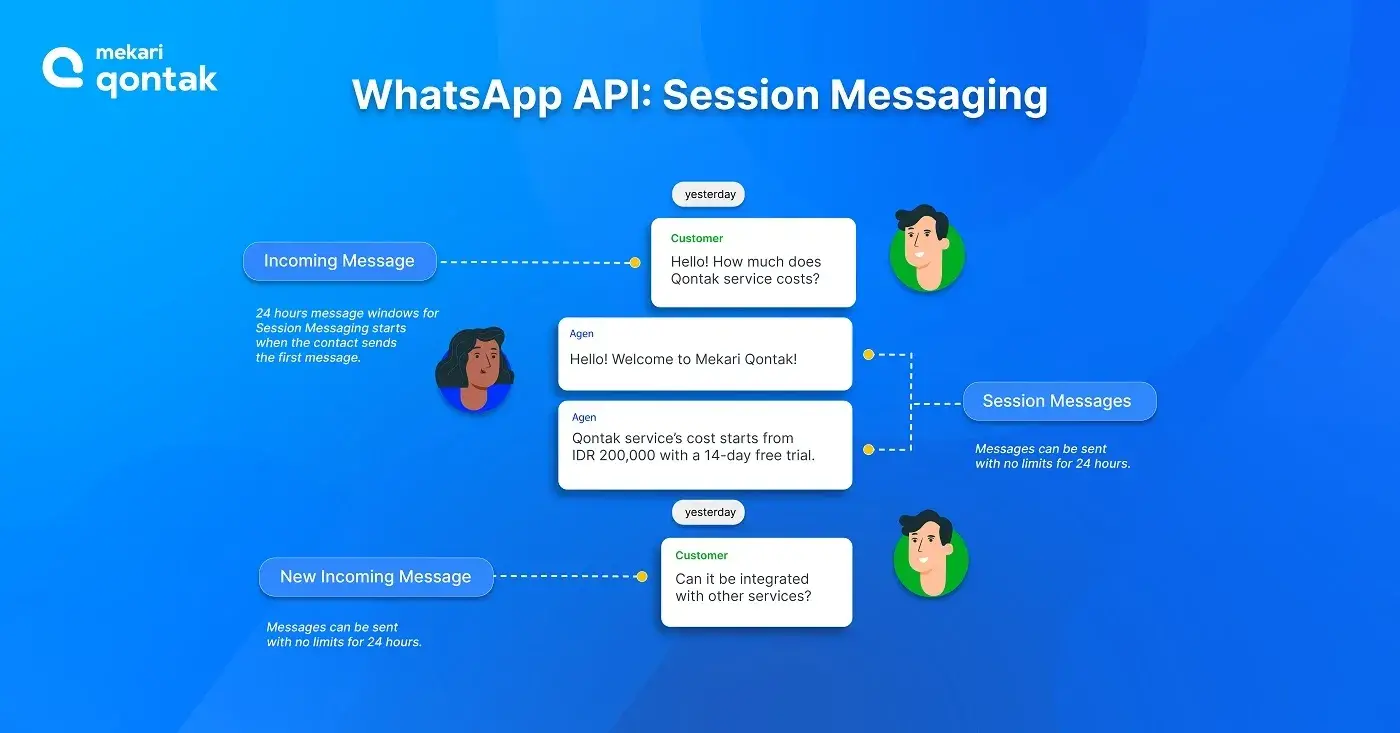 To prevent spam and help businesses respond quickly to incoming messages, WhatsApp has limits on session messaging or sending messages.
Session messaging allows companies to reply to incoming messages within 24 hours. After 24 hours, the company will not be able to send messaging sessions.
Session messages can be divided into two parts:
Business-initiated conversation (BIC) is business-initiated messaging. Businesses typically send their customers multiple notifications that they can respond to and initiate conversations.
User-initiated conversation (UIC) is a customer-initiated message. A  message sent by the customer and replied to by the company.
Templates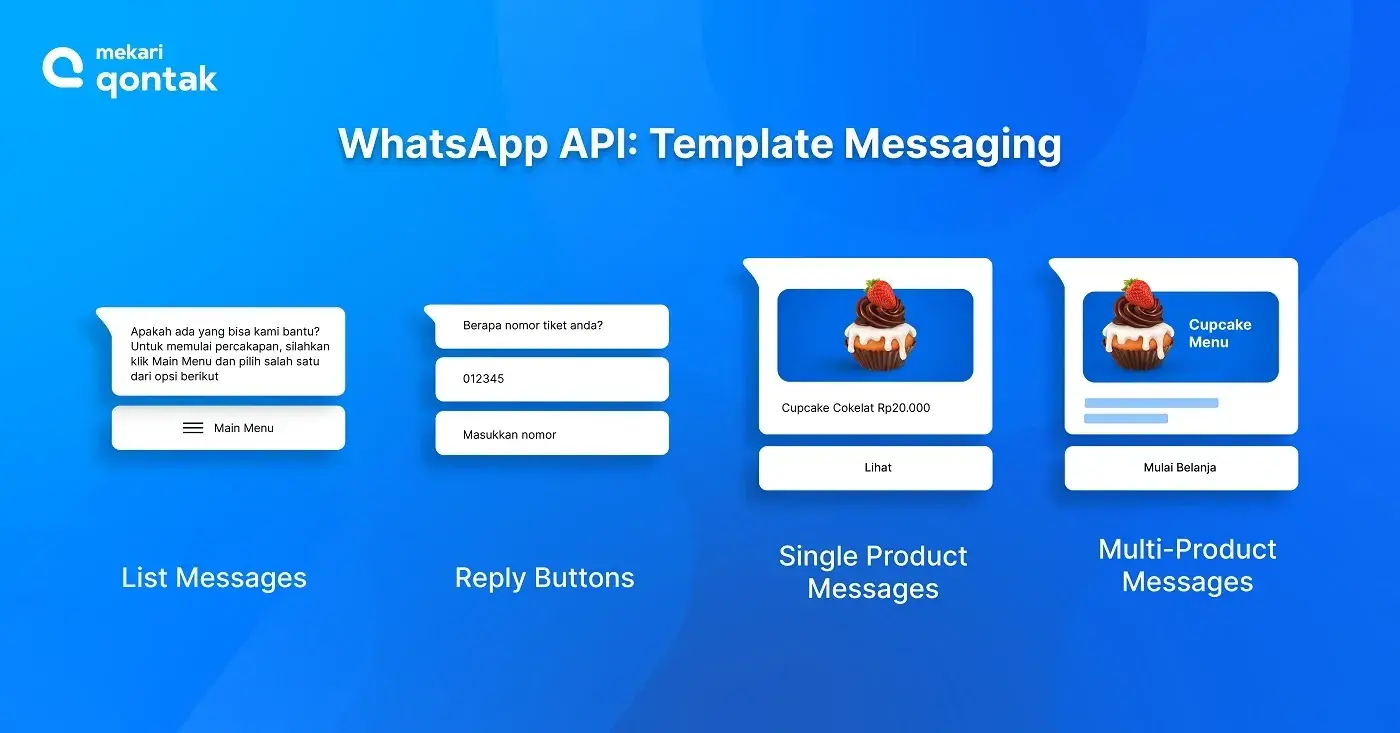 A message template is required to start a business-initiated conversation. These conversations can be used for customer service messages or appointment reminders, payment or shipping updates, notifications, and more.
Message templates must be approved by WhatsApp, before being used to start conversations. To start a BIC, your customers must have opted in to receive messages from your business.
---
WhatsApp Business API: Features
Then one of the main advantages of the WhatsApp Business API is its ability to respond to customers automatically which is proven to be able to improve customer service experience and services.
The advanced features that are the strengths of the WhatsApp Business API include:
Multi-agent and multi-device: WhatsApp API can be used by many agents on many devices. It means your customers can respond faster.
Green tick verification: You may see a green tick verification (verified badge) next to your display name. A verified badge indicates that your account has been verified and you own the business.
Rotators: The Rotator feature helps you serve customers faster by automatically routing customer messages to agents.
Chatbots: WhatsApp chatbot can automatically reply to customers. It means customers no longer have to wait for an answer.
Blast WhatsApp: This feature allows businesses to send multiple messages, even if the customer doesn't have your business contacts. Apart from that, you can also personalize your Blast messages to reach more subscribers.
WhatsApp Integration: Integrate WhatsApp with your CRM software to drive business growth and increase customer retention for your business.
WhatsApp links: Make it easy for your customer to contact your business with a WhatsApp API link.
CSAT: Improve business experiences and services with insights from real-time customer feedback.
WhatsApp Business Search: Users can easily search for a company name and start a conversation without leaving WhatsApp.
---
Main Benefit of WhatsApp Business API
Here are the benefits of WhatsApp Business API:
Instantly serve your customer with just one WhatsApp number.
You can serve your customers 24/7.
A virtual assistant that makes customer service tasks easier
An analytical reporting dashboard that allows you to monitor all customer service activities through your WA. Integration with CRM systems that can improve the customer experience.
Improve your customer service performance faster and more efficiently.
Build loyalty and trust in front of your customers.
Come with an end-to-end encryption system that keeps WhatsApp user data confidential.
---
How to Get WhatsApp Business API?
There are two ways to get the WhatsApp Business API, through a local installation or Business Solution Partner (BSP).
You can do the installation yourself, but it can get pretty complicated. You need to prepare your open platform or docker to use the installation guide.
Using BSPs is now much simpler and easier for your business. Here are the three easy steps to get the WhatsApp API:
1. Set a phone number
You need to set up a phone number that can receive calls and SMS from international numbers. Make sure the number doesn't already have a WhatsApp account.
If the number you want to register already has a WhatsApp account, you will need to delete the existing account.
2. Register your phone number to WhatsApp Official Partner
The next step is to choose an official WhatsApp Business API partner, such as Mekari Qontak.
Mekari Qontak offers an affordable WhatsApp API service that integrates with your omnichannel CRM. Register your WhatsApp Business API account here.
3. Verify your Facebook Business Manager account
Next, you'll need to verify your business account in Facebook Business Manager. In this case, WhatsApp will carry out a verification process regarding the correctness of the identity of the registered company.
The data required for the verification process are
company name
Website URL
industry
Field of application
Facebook Business Manager ID
Registering a WhatsApp Business account in Facebook Business Manager can be confusing. But don't worry, the Mekari Qontak team will help you with a simple registration.
The Mekari Qontak team will help you upload these documents to complete the business registration. After completing the steps above, you're ready to use WhatsApp API!
---
Is Your Business Eligible to Apply WhatsApp API?
Not all companies can register for a WhatsApp Business API account. The allowed requirements for businesses are:
The following are the categories of businesses that are prohibited under WhatsApp policies:
Illegal products or services
Drugs, whether prescription, recreational or otherwise
Tobacco items and related paraphernalia
Alcohol
Unsafe ingestible supplements
Weapons, ammunition, or explosives
Animals
Adult products or services
Body parts and fluids
Medical and healthcare products
Items or products with overtly sexualized positioning
Real money gambling services
Dating services
Products or items that facilitate or encourage unauthorized access to digital media
Digital and subscription services, including links to or processing of any subscription sales, renewals, or upgrades
Business models, goods, items, or services that we determine may be or are fraudulent, misleading, offensive, or deceptive, or maybe or are exploitative, inappropriate, or exert undue pressure on a targeted group
Real, virtual, or fake currency
Third-Party Infringement
---
How Much Does the WhatsApp API Cost?
WhatsApp API pricing may be different in various countries. WhatsApp Business pricing is based on the market in which the company operates or the country code of the person receiving the message.
On the other hand, the price Facebook has set for WhatsApp Business depends on who initiates the conversation.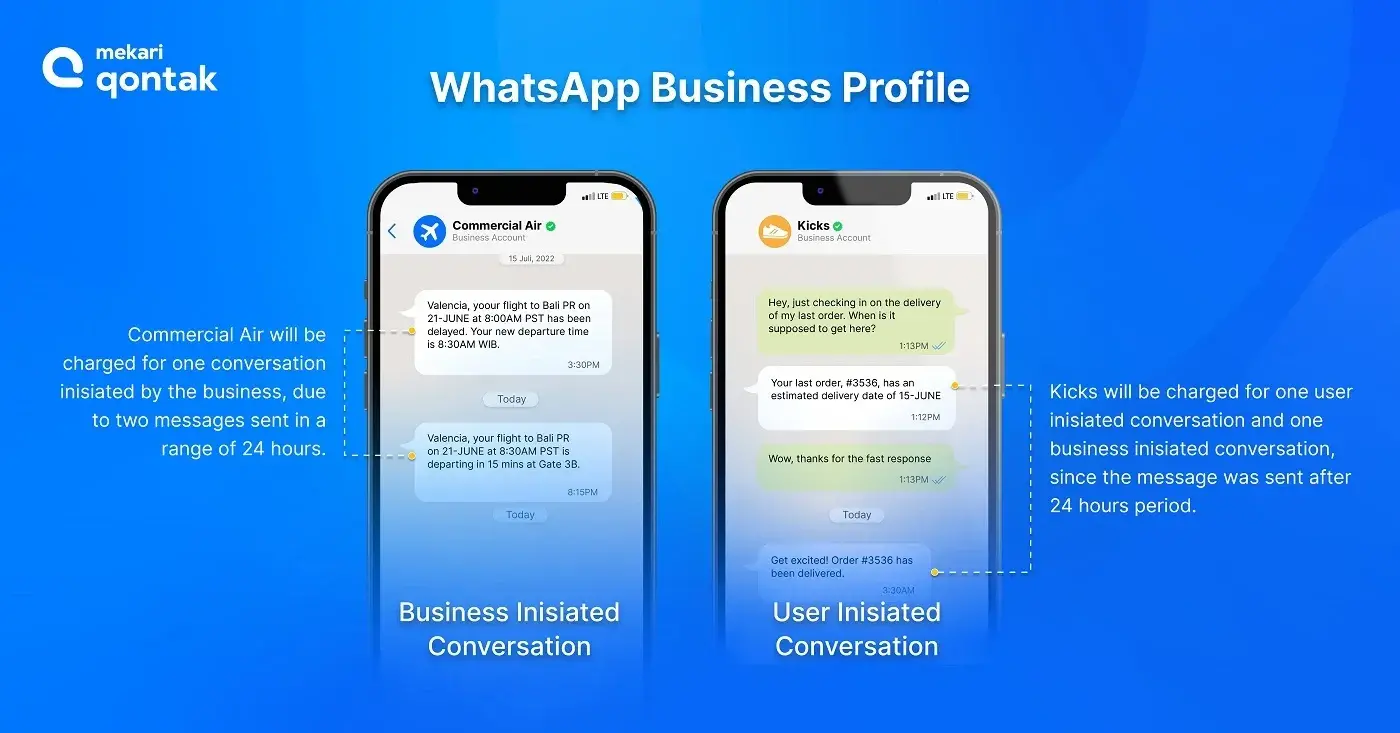 1. User-initiated conversation
The customer initiates the conversation, and the company can reply to the customer's messages for 24 hours.
2. Business-initiated conversation
Business initiates a conversation with the customer outside of the 24-hour service hours. In this case, the company needs a message template to send the message.
During this time, businesses and customers can exchange messages without additional messages.
Find more about WhatsApp Business pricing here.
---
Get Your WhatsApp Business API Right Now!
Are you interested in using the WhatsApp Business API? If you are interested, then this is your chance!
Mekari Qontak provides a free demo account that you can try! So what are you waiting for?