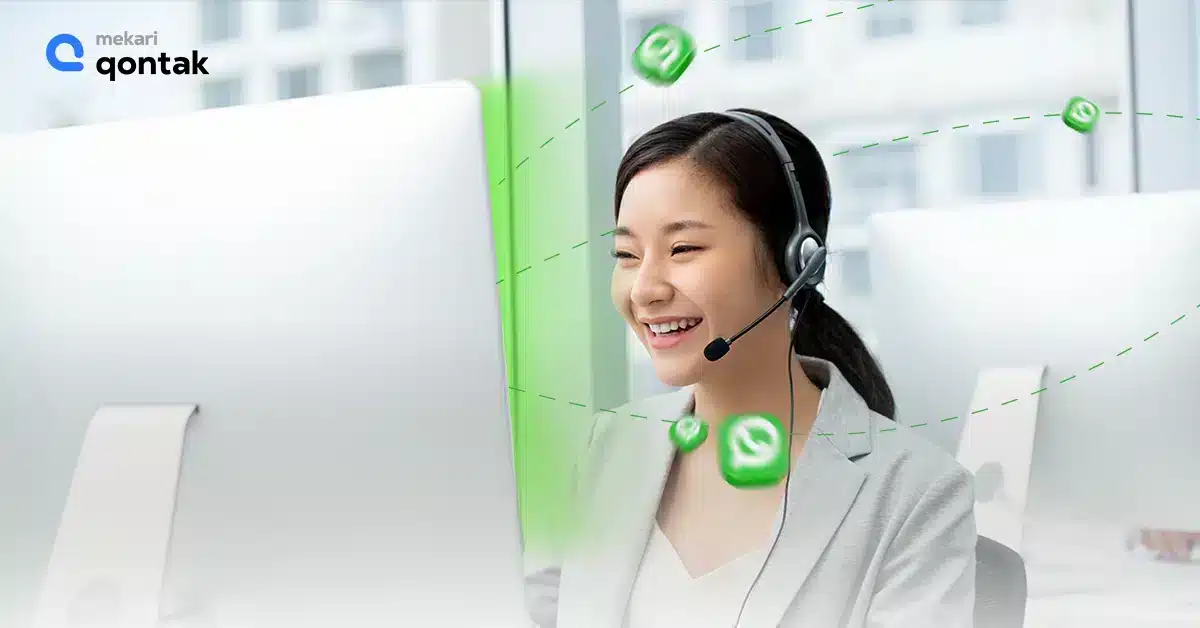 Are you looking to improve customer engagement and streamline your business communication? One solution is to integrate WhatsApp API into your operations.
WhatsApp's integration allows you to connect your WhatsApp account with other systems and applications, making sending and receiving messages and accessing and sharing data easier.
We'll show you how to use the WhatsApp API effectively and demonstrate how to integrate it into your business in this article below!

---
What is WhatsApp integration?
WhatsApp Integration is a feature of the WhatsApp Business API that connects WhatsApp with other systems the company uses.
This feature allows WhatsApp to seamlessly connect and share data with other methods used by a company. This eliminates the need to switch between platforms, making communication and information sharing more efficient.
The WhatsApp Business API also provides advanced features and greater flexibility than the regular WhatsApp messenger, making it a valuable tool for businesses in customer service and sales.
---
How does WhatsApp integration work?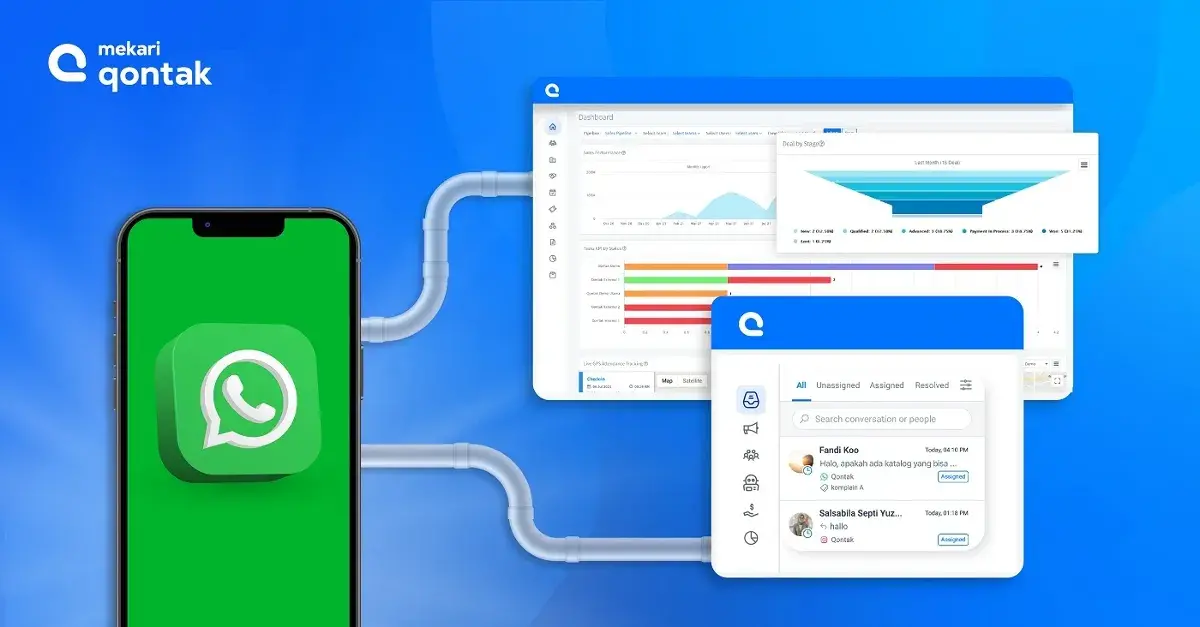 WhatsApp's integration allows businesses to connect their WhatsApp accounts with other applications and systems, such as CRM software, omnichannel, e-commerce platforms, or chatbot.
By integrating WhatsApp with these other systems, businesses can send and receive messages and access data without switching platforms.
Also Read: Understanding CRM Software and What is Omnichannel
---
Why does a business need to integrate WhatsApp API?
Integrating WhatsApp API into a business's operations can be beneficial for several reasons:
Improved customer engagement: WhatsApp is a well-liked messaging platform with many active users. Businesses can reach customers through a platform they already use and likely regularly check by integrating the WhatsApp API into their business communication systems.
Effortless communication: Businesses can use WhatsApp integration to send and receive messages and access and share data between WhatsApp and other systems without switching platforms. Efficiency and time savings can result from this.
Enhanced customer service: A chatbot or other automated messaging system can provide real-time customer support through WhatsApp integration. Businesses can respond to customer inquiries more quickly and provide better overall customer service as a result of this.
Increased sales: WhatsApp integration can be utilized to send customized limited-time messages and offers to clients through WhatsApp, assisting with expanding deals.
Enhanced data analysis and tracking: Businesses can use WhatsApp CRM to track and analyze customer data more effectively. On the other hand, businesses can use it to improve their operations by integrating WhatsApp with other business systems.
---
How to integrate WhatsApp API?
1. Setting up a WhatsApp Business API account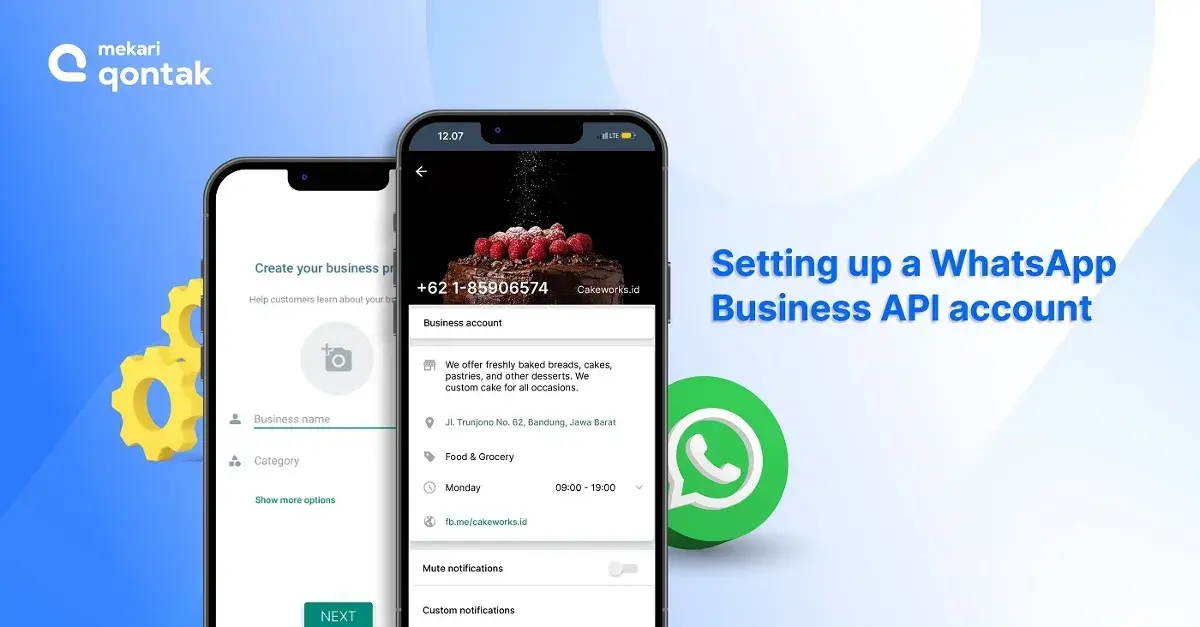 There are two ways to obtain the WhatsApp Business API: a local installation or a Business Solution Partner (BSP).
A local installation can be complex and requires preparing an open platform or docker and following an installation guide.
Alternatively, BSPs offer a more straightforward option for businesses. To get the WhatsApp API through a BSP, such as Mekari Qontak, the steps are as follows:
Set up a phone number that can receive calls and SMS from international numbers and does not already have a WhatsApp account.
Register the phone number with an official WhatsApp Business API partner, such as Mekari Qontak.
Verify the business's Facebook Business Manager account by providing company information and uploading documents.
After completing these steps, the business will be ready to use the WhatsApp API.
Also Read: What is WhatsApp Business API? and 15 Benefits of WhatsApp Business API
2. Integrate the API into your business communication systems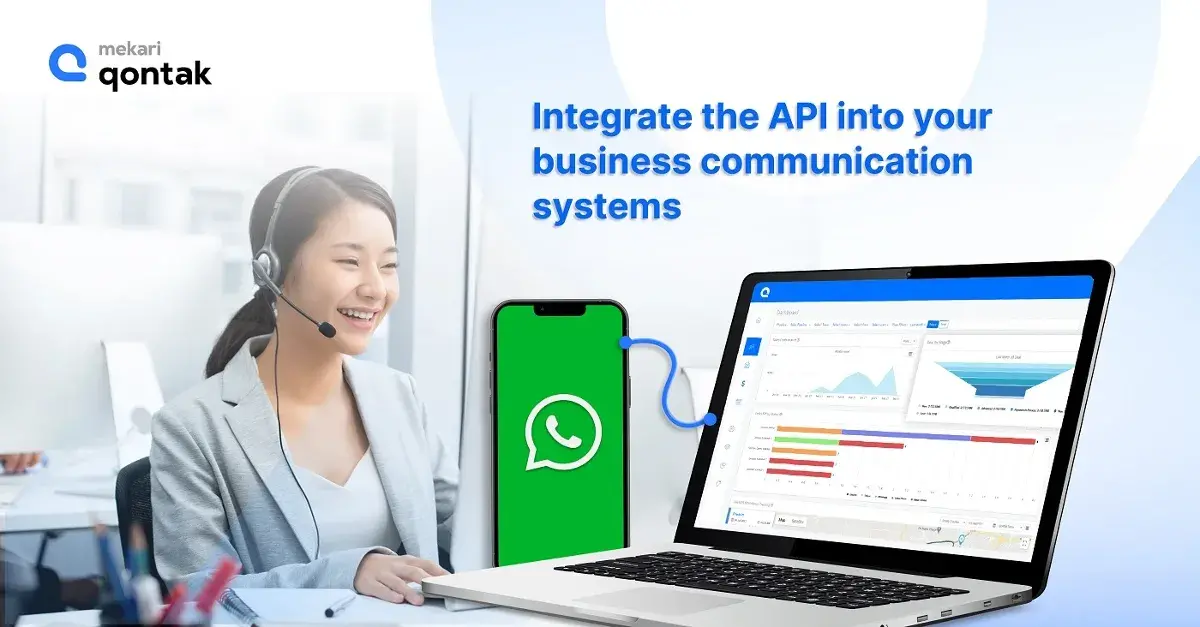 There are various supporting applications you can connect to WhatsApp with APIs, such as CRM and Omnichannel software.
At this stage, the Mekari Qontak team will help you to easily and quickly integrate WhatsApp CRM and Omnichannel.
3. Make sure your integration is working and refine it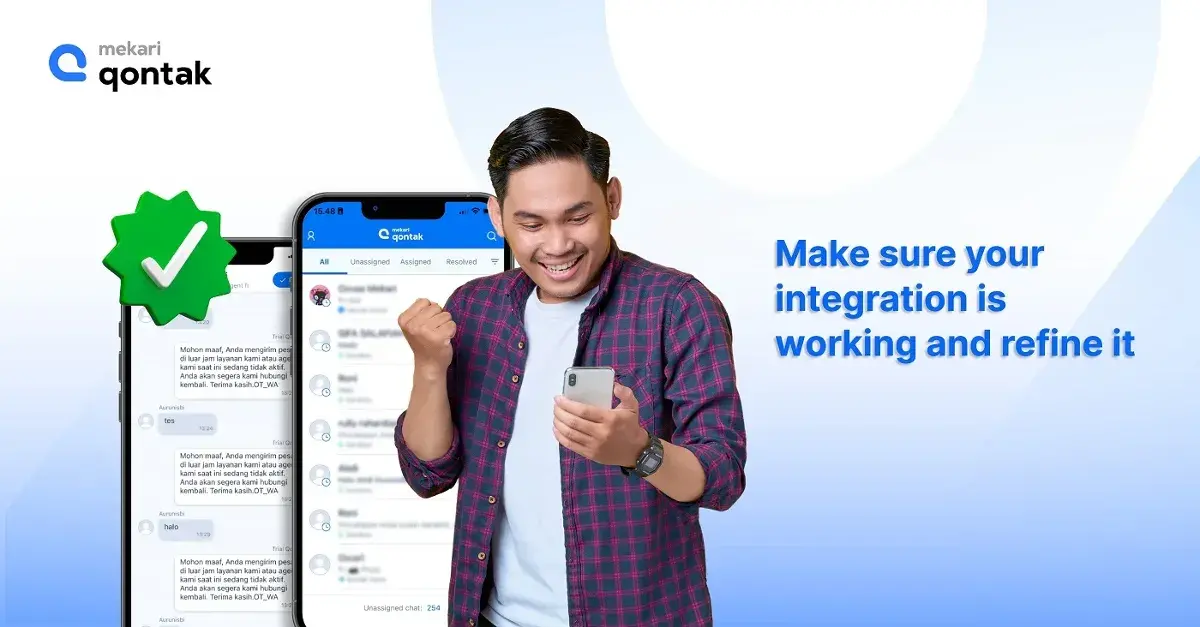 Last but not least, you'll need to test your integration to ensure that it works as expected and that you can use the WhatsApp Business API to send and receive messages.
---
Best practices for using WhatsApp API in your business
In order to get the most out of WhatsApp Business API, follow these best practices:
1. Adhere to policies and guidelines, and be familiar with WhatsApp's terms of service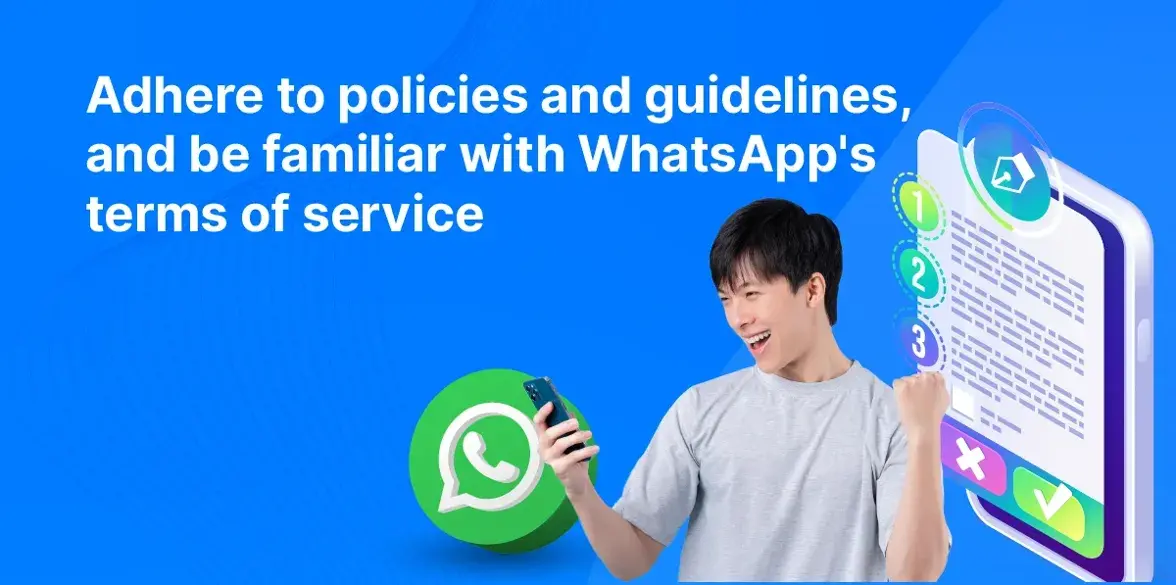 It's important to ensure that your use of the WhatsApp Business API aligns with the policies and guidelines set by WhatsApp.
Familiarize yourself with WhatsApp's terms of service to avoid violations that may lead to account suspension or other penalties.
2. Use the API only for business-related communication and avoid spam

The WhatsApp Business API should be used only for business-related communication, such as customer support, order updates, and transactional messages.
Avoid sending spam or unwanted messages, as this can harm your brand reputation and result in account suspension.
3. Maximize API features for business needs

The WhatsApp Business API offers a range of features that can help streamline your business operations and improve customer experience.
Take advantage of these features, such as API integration, Whats App chatbot, auto reply, green tick, and WhatsApp Blast, to meet your business needs and enhance customer engagement.
Also Read: What is WhatsApp Green Tick Verification and How to Make a WhatsApp Chatbot in 5 Easy Steps!
4. Get explicit permissions before sending messages to customers
Before using the WhatsApp Business API to send messages to customers, ensure that you have direct permissions.
This can be achieved through opt-in or opt-out options, which give customers control over whether they want to receive messages from your business.
5. Respect customers' time and attention, and send only necessary messages
Customers value their time and attention, so sending only necessary messages is important.
Avoid bombarding customers with too many messages or irrelevant information, as this can be perceived as intrusive and annoying.
6. Consider opt-in or opt-out options to let customers control whether they receive messages
To ensure that customers have control over the messages they receive, consider implementing opt-in or opt-out options.
This gives customers the freedom to choose whether to receive messages from your business, which can help build trust and loyalty.
7. Provide excellent customer service by monitoring and responding promptly to messages
Customer service is key to building trust and loyalty with customers.
Monitor and respond promptly to customer messages, and provide personalized and helpful responses to their queries and concerns.
This can help improve customer satisfaction and increase brand loyalty.
Learn more about WhatsApp for customer service here.
8. Use the API for WhatsApp Marketing, such as sending valuable information or special offers
The WhatsApp Business API can also be used for marketing purposes, such as sending customers helpful information or special offers.
However, it's important to ensure that these messages are relevant and beneficial to the customer and are sent at appropriate times to avoid being perceived as spam.
Also Read: WhatsApp Marketing, The Ultimate Guide to Boost Revenue
---
Get started with WhatsApp API Integration today!
Ready to take your business communication to the next level with WhatsApp Business API? Then don't wait any longer. Start integrating WhatsApp API with Mekari Qontak today!
With the help of our team of experts, you can easily integrate the WhatsApp Business API into your business systems and start communicating with your customers effectively.
Whether you're looking to improve customer service, increase sales, or stay connected with your audience, the WhatsApp Business API can help you achieve your goals.
So why wait? Contact us today to learn more and get started with WhatsApp API integration!