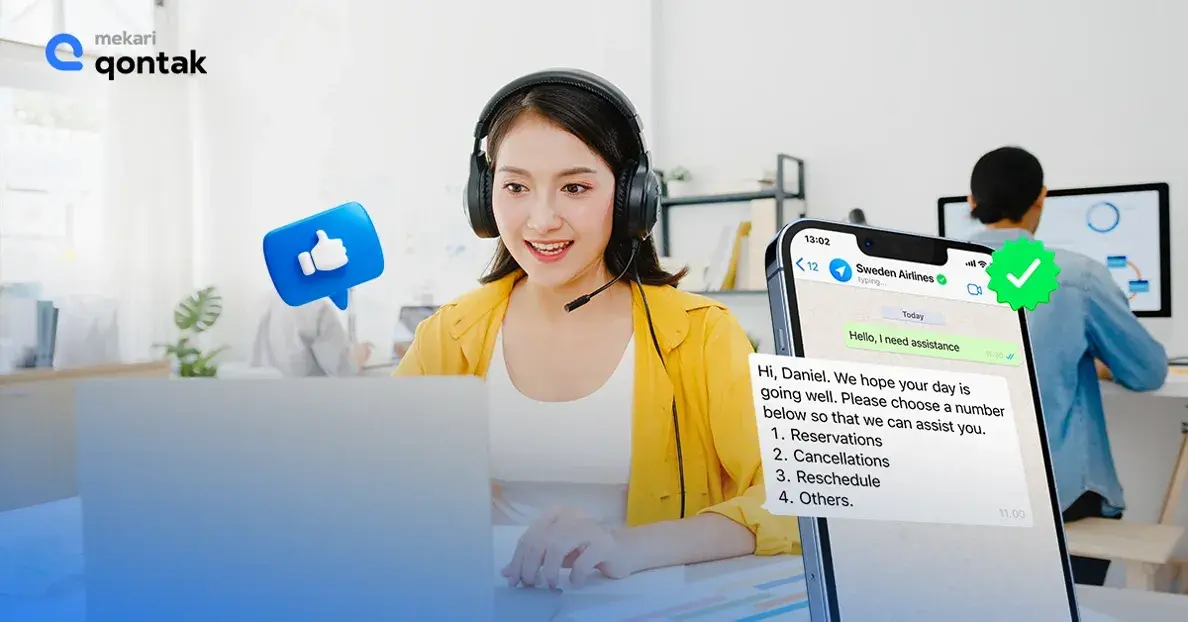 The business landscape constantly evolves, demanding businesses adopt innovative communication channels to stay ahead. WhatsApp, the popular messaging platform, has emerged as a game-changer for customer support.
Its vast user base and intuitive features have transformed how businesses interact with customers. This article delves into the advantages of using WhatsApp for customer service and offers practical integration tips.
---
Why use WhatsApp for customer support?
Nowadays, customers expect seamless and personalized experiences. They want businesses to be accessible, responsive, and attentive to their needs.
In this case, WhatsApp plays a big role as the world's third-most-used social media platform, with two billion users.
People like and trust WhatsApp more than other popular messaging apps, making it an ideal platform for businesses to connect with customers.
80% of adults say messaging is easy to communicate with businesses, and 175 million people message a business on WhatsApp daily.
---
How to use WhatsApp for customer service?
Implementing WhatsApp for customer service requires careful planning and execution. Here are some tips and best practices to ensure a seamless experience:
1. Complete your business profile
Creating a comprehensive business profile is essential when using WhatsApp for customer service.
Show professionalism by adding vital information such as a compelling business description, accurate contact details, precise working hours, and an easily recognizable profile picture.
Additionally, consider adding green tick verification to your account to enhance trustworthiness and credibility.
Also Read: How to Get Green Tick on WhatsApp
2. Inform customers about WhatsApp support
To ensure that customers are aware of your availability on WhatsApp, make sure to promote it across multiple channels.
Leverage your website, social media profiles, email signatures, and even offline marketing materials to spread the word.
Encourage customers to reach out to you on WhatsApp for prompt and efficient assistance, emphasizing the benefits of quicker response times and personalized support.
3. Leverage WhatsApp Business tools
Unlock the full potential of WhatsApp for your business by utilizing the dedicated WhatsApp Business App or WhatsApp API. These tools provide access to advanced features designed to streamline customer service operations.
Take advantage of automated greetings to welcome customers, leverage quick replies for efficient responses, employ chatbots for automated assistance, utilize WhatsApp blasts for targeted messaging, integrate with the CRM dashboard, and utilize labels to organize and prioritize conversations.
Additionally, leverage analytics provided by WhatsApp API for Business to gain valuable insights into your performance and optimize your customer support strategy.
Also Read: What is WhatsApp Business API and How to Get it
---
Examples of successful use of WhatsApp for customer service
1. SPL – Revolutionizes customer service and logistics
SPL, a Saudi Arabian postal firm, transformed customer service using WhatsApp.
With a virtual assistant named "Maha," they achieved a 50% reduction in call center wait times and 90% of inquiries resolved within WhatsApp. Response times improved by 30% while operating costs decreased by 75%.
They also developed a national address system for accurate deliveries. SPL delivered 1 million prescriptions and aims to expand internationally. WhatsApp revolutionized its customer service and logistics operations.
2. LAFISE Bank – Boosting customer satisfaction
LAFISE Bank, a leading financial institution in Nicaragua, successfully utilized WhatsApp to enhance customer service.
By developing a virtual assistant on the WhatsApp Business Platform, they experienced a significant decrease in call center volumes, improved customer satisfaction scores, and generated growth in new customers and sales.
With functionalities such as checking transaction status and completing transfers, customers enjoyed faster and highly secure service.
LAFISE Bank's success story exemplifies the effectiveness of leveraging WhatsApp for exceptional customer support and business growth.
Also Read: WhatsApp API for Travel and Hospitality Industry – Case Studies
---
Tips for Using WhatsApp Business for Customer Service
Here are five tips for using WhatsApp Business effectively for customer service:
Set Clear Expectations: Communicate response times and availability to set customer expectations.
Utilize Automated Responses: Utilize automated replies and quick replies to provide instant information and acknowledgment.
Organize Contacts with Labels: Use labels to categorize and organize contacts to manage customer conversations efficiently.
Personalize Customer Interactions: Personalize interactions by addressing customers by name and referencing previous conversations.
Monitor Analytics and Feedback: Monitor analytics and customer feedback to gain insights and improve customer service.
References: