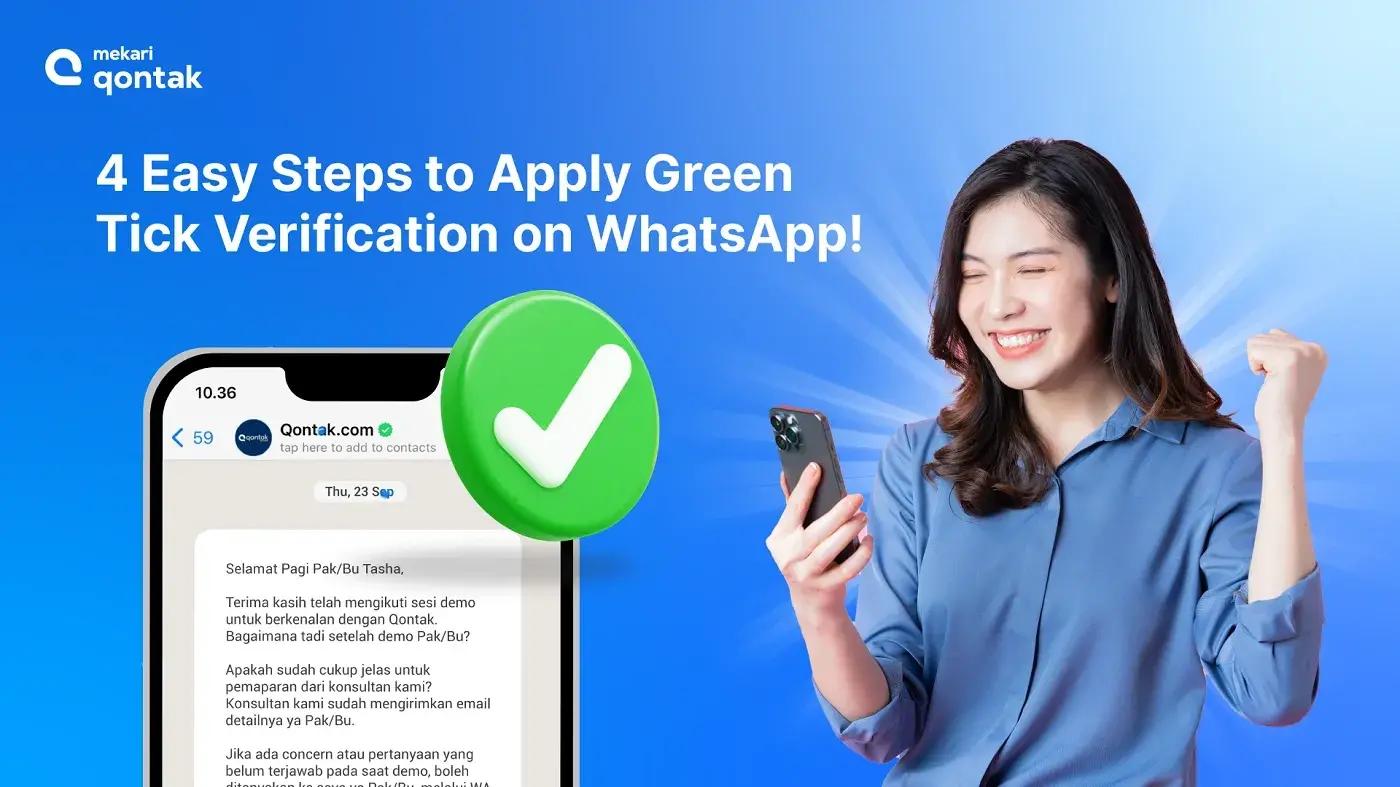 Have you ever seen a green tick sign next to a business name displayed on WhatsApp? That sign is called a WhatsApp green tick verification.
At first glance, the sign only looks like a sign. But did you know that WhatsApp's green tick verification has many benefits for business?
Then, how to get the green tick on WhatsApp? Let's take a closer!👇
---
What is Green Tick on WhatsApp?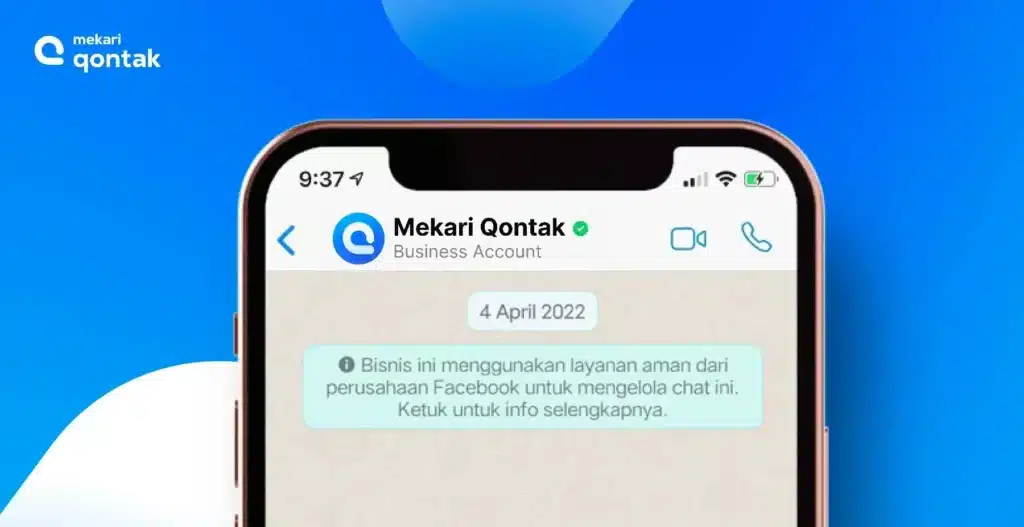 WhatsApp green tick verification indicates that your WhatsApp Business account has been officially verified by WhatsApp. By obtaining the WhatsApp green tick, businesses can increase credibility and trust among customers.
To get this symbol, you need to go through the WhatsApp verification process and convert your business account to WhatsApp Business API. You can do this process by contacting a Business Solution Provider (BSP) or WhatsApp Official Partner in your country.
After submitting the WhatsApp green tick verification, the verified badge symbol will appear next to your business name on the chat thread headers, even if they don't store your number in their phone book.
Types of WhatsApp Business Account
Before discussing the WhatsApp green tick, it's good to know in advance the two types of WhatsApp Business, Business Accounts and Official Business Accounts.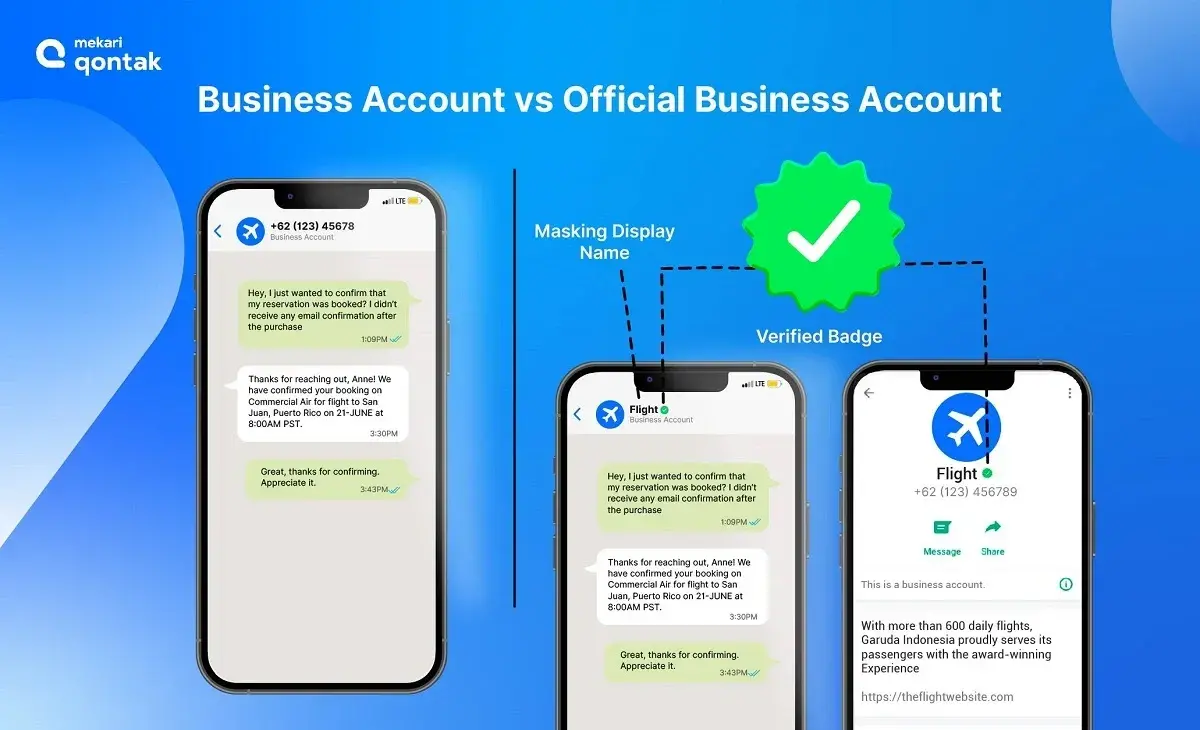 Business Account
A Business Account is a WhatsApp business account that can only be obtained via smartphone, either through the App Store(iOS) or Google Play Store (Android).
However, the Business Account does not provide the WhatsApp green tick.
Official Business Account (OBA)
Official Business Account is a WhatsApp Business API that is officially verified by WhatsApp. This account only can be obtained through a Business Solution Provider (BSP) such as Mekari Qontak.
One of the signs of an official business WhatsApp account is the presence of a green tick badge (verified badge) next to the name on the business profile. Another advantage is the business name will remain visible even if the number has not been added to the contact list.
| | |
| --- | --- |
| Business Account | Official Business Account |
| By default, any account using the WhatsApp Business App is a business account | An official business account has a green tick verification in its profile and chat thread headers |
| You can download it on the App Store and Play Store | You can only get it through a Business Solution Provider or Official WhatsApp Partner |
| Free | Paid |
| Limited features | Provided with various advanced features |
---
Your benefits after getting green tick verification on WhatsApp
For information, WhatsApp has a 98% message open rate and 45-60% click-through rate (CTR), which has a high chance for business growth.
You can make the most of this opportunity if you have a verified WhatsApp account. Here are the benefits of green tick verification on WhatsApp.
Improve the value of your business to your customers.
A verified OBA with a green tick verification can build credibility in your business with little effort, as it increases the trust of your customers and business partners.
Increase business sales. The WhatsApp green tick greatly reduces the chances of customers or business partners having doubts about creating an online transaction with your company. This will enable sales transactions to increase as much as possible.
Reach multiple customers at the same time. Once you get verified badge, you can send WhatsApp blast messages to many contacts at once.
You don't need to store destination phone numbers and vice versa. It means you can reach more customers in less time.
Free company name recognition or branding. Because when you send a message or communicate, your company name will automatically appear on the message recipient's chat screen without having to save it first.
---
Is your business eligible to get a green tick on WhatsApp?
Not all business accounts can have the green tick WhatsApp. Here are the business-eligible requirements:
The following are the categories of businesses that are prohibited under WhatsApp policies:
Illegal products or services
Drugs, whether prescription, recreational, or otherwise
Tobacco items and related paraphernalia
Alcohol
Unsafe ingestible supplements
Weapons, ammunition, or explosives
Animals
Adult products or services
Body parts and fluids
Medical and healthcare products
Items or products with overtly sexualized positioning
Real money gambling services
Dating services
Products or items that facilitate or encourage unauthorized access to digital media
Digital and subscription services, including links to or processing of any subscription sales, renewals, or upgrades
Business models, goods, items, or services that we determine may be or are fraudulent, misleading, offensive, or deceptive, or may be or are exploitative, inappropriate, or exert undue pressure on targeted groups
Real, virtual, or fake currency
Third-Party Infringement
---
4 Easy Steps to Apply Green Tick Verification on WhatsApp!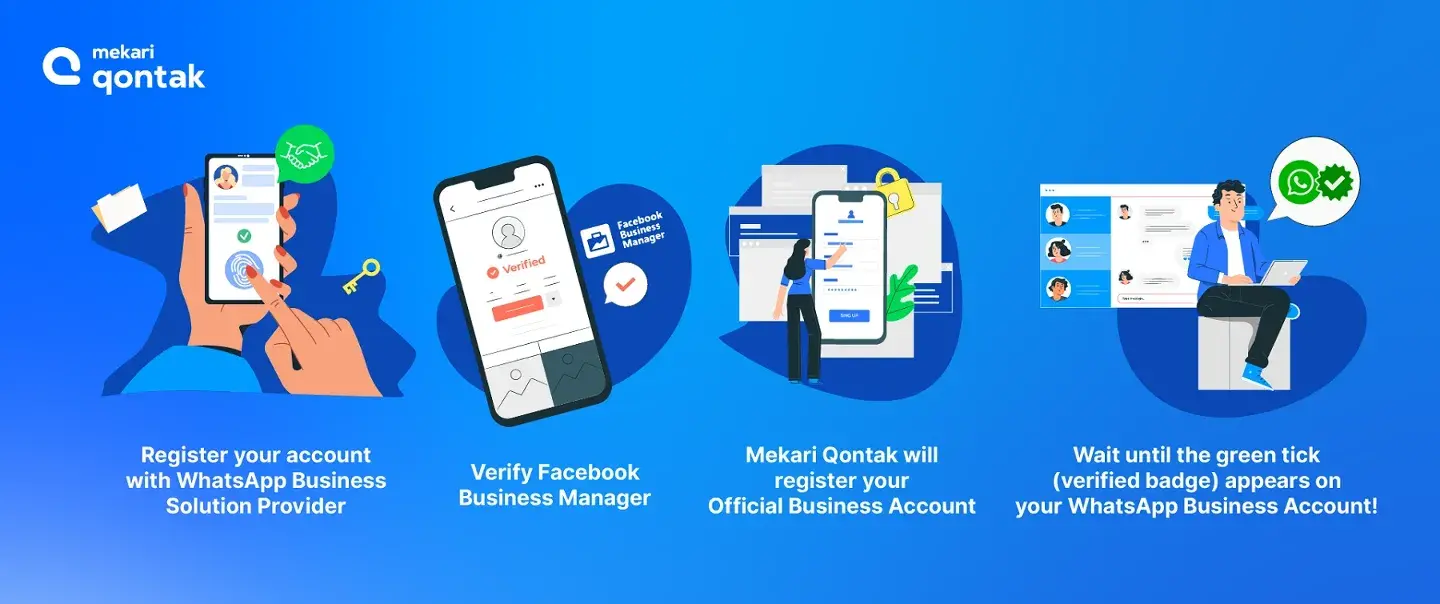 To get the WhatsApp green tick, you need to make sure that your WhatsApp account is verified. Let's see how to apply for whatsapp green tick by following these steps.
1. Register your account with WhatsApp Business Solution Provider, Mekari Qontak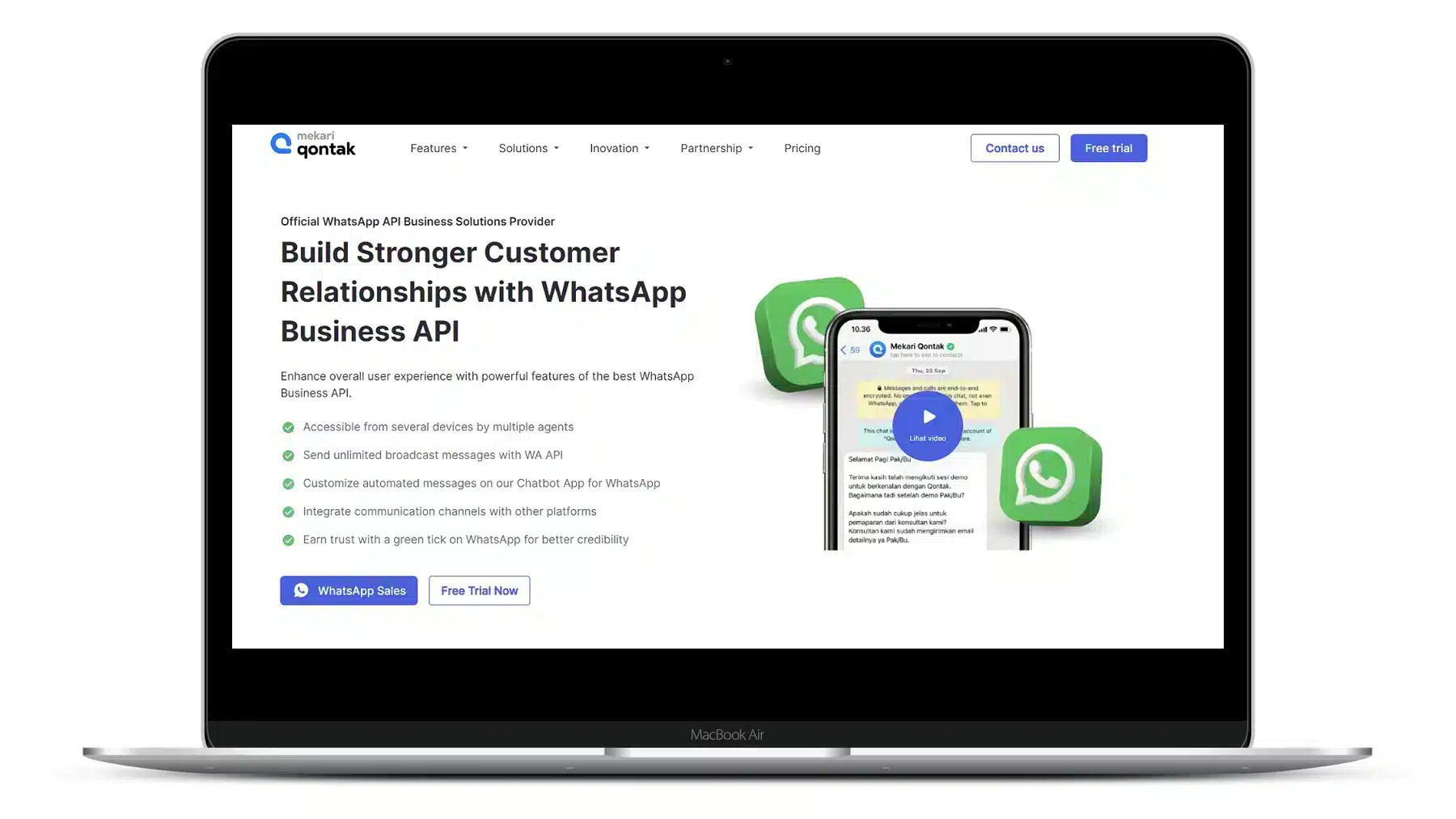 Prepare the number you will use for a verified WhatsApp account. Be sure the number has never been used before and will always be active because you can't change it after it's registered.
In addition to setting up your number, you also need to meet the terms and conditions to get the verified badge, including:
Have a Facebook Business Manager account.
Provide business legality documents such as SIUP, TDP, NIB, NPWP, etc.
Have a website, email, and other business information.
Then, register the number to an Official WhatsApp Partner in your country, such as Mekari Qontak.
Mekari Qontak provides services to get the official WhatsApp green tick verification through the verified WhatsApp platform.
In addition, Mekari Qontak also provides an end-to-end solution that can connect the WhatsApp Business API with other chat applications or omnichannel solutions.
2. Verify Facebook Business Manager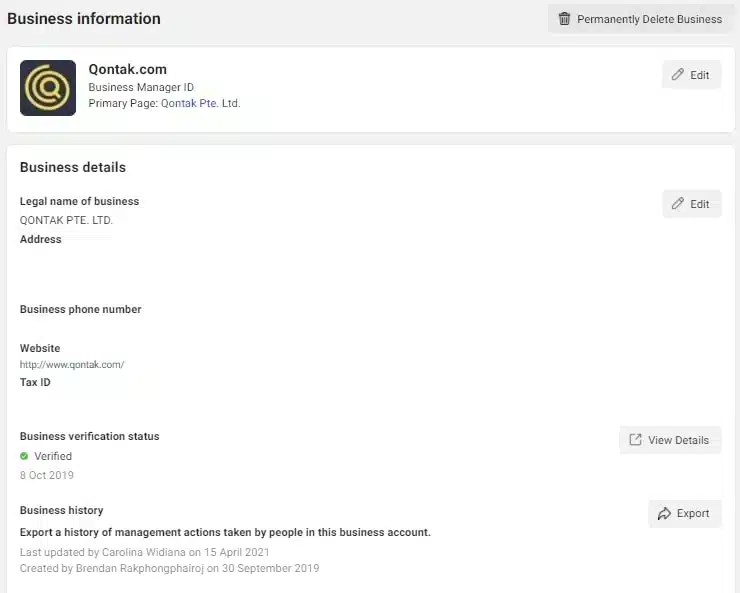 If you have verified Facebook Business Manager, you only need to log in with your Facebook account.
However, if you haven't verified, you can follow these steps:
Login to your Facebook Business Manager account and click Business Settings.
Under Accounts, select WhatsApp Accounts. If you have multiple accounts registered, choose the one you want to request.
Select Settings and click Contact Support.
Click Ask a question at the top right and select WABiz: Request official business account status.
Fill in the required information. Note: make sure you've set up 2-step authentication before continuing your business verification process.
The status will be available under the Direct support option in your Business Manager.
3. Mekari Qontak will register your Official Business Account
Next, the Mekari Qontak team will register your WhatsApp account to make it an Official Business Account.
Allows you to later access and use various advanced features of the official WhatsApp Business. It includes green tick verification that can add credibility to your business.
4. Wait until the green tick (verified badge) appears on your WhatsApp Business Account!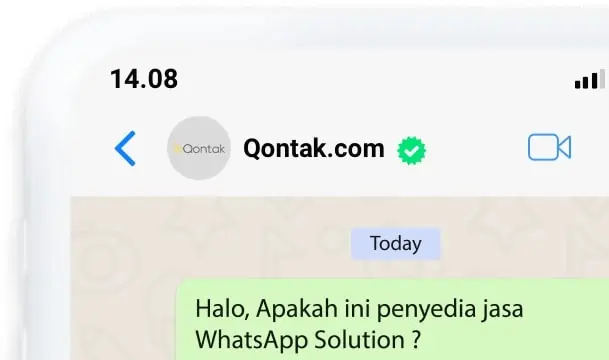 Finally, if your WhatsApp green tick verification request is successful, your Business Account will automatically change to a WhatsApp Official Business account.
Then you can see the appearance of a verified green tick symbol next to your business name on the chat thread headers.
---
How long does it take for WhatsApp Business to get the green tick?
Green tick verification typically takes 1 to 2 working days, but it can take up to a week. And the worst case is being rejected by WhatsApp. Green tick policies are subject to the WhatsApp authority.
---
What if I got rejected for my Green Tick application?
You don't have to worry if your application is rejected. The absence of a verified WA logo does not limit you from using the WhatsApp Business API.
In addition, WhatsApp made an update about the display of business names. The business name can automatically appear for all business accounts when clicked, masking for Business Verification accounts, and green ticks for Official Business Accounts.
On the other hand, you can ask the Mekari Qontak team as a Business Solution Provider (BSP) to check or resubmit a WhatsApp green tick verification application.
---
How much does WhatsApp Green Tick cost?
You can get a WhatsApp green tick for free!
However, to get the verified badge, you must be sure that your business account is an official WhatsApp API.
Find out more information about verified WhatsApp prices here!
---
What are you waiting for? Get your Green Tick WhatsApp now!
Mekari Qontak provides WhatsApp Business API equipped with WhatsApp green tick and various features to support your business.
You can also integrate it with Mekari Qontak's Omnichannel CRM to accelerate your business! Sign up now!