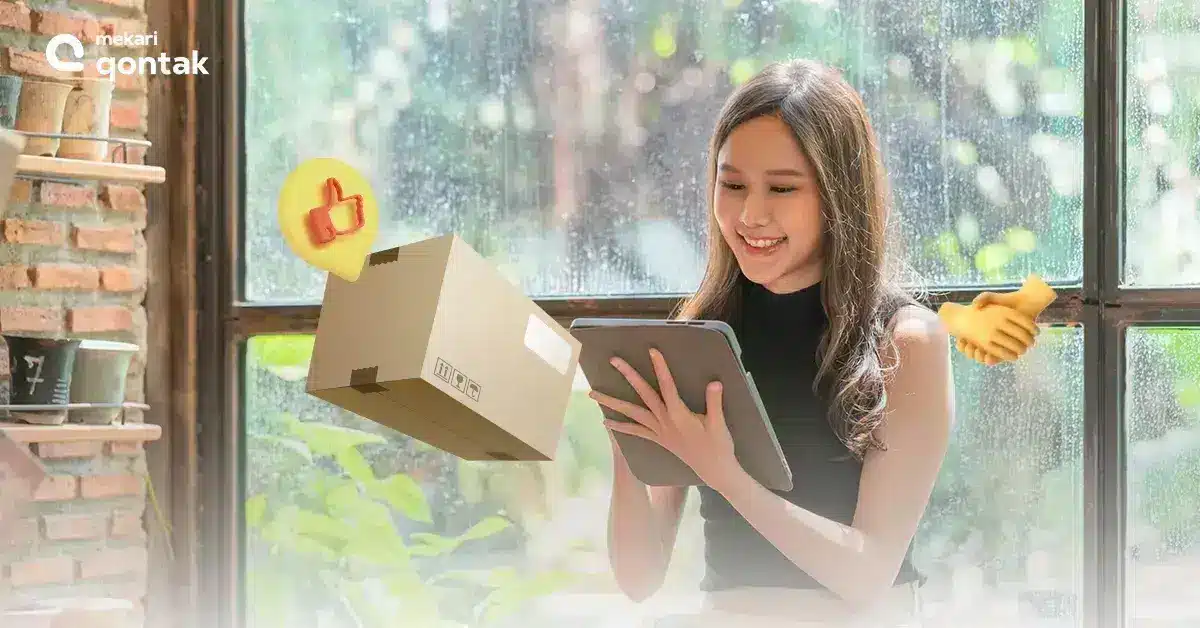 Engagement sales is a business strategy that focuses on creating lasting bonds with customers and sparking their interest swiftly. It's like the cornerstone of a thriving business.
In simpler terms, it's about how a company interacts with its customers and establishes strong connections. These friendly relationships are key to building customer loyalty and ensuring the business's sustained growth.
For a deeper dive into customer engagement, explore the comprehensive guide provided below!

---
What is Customer Engagement?
Customer engagement is like a heartfelt connection between customers and brands.
This special bond comes to life when customers and brands interact through different ways like social media, websites, email, and community forums.
When a brand maintains a strong, ongoing relationship with its customers, it builds trust, loyalty, a strong liking, and increases the long-term value of those customers.
Furthermore, this connection can also boost brand recognition, make customers happier, and ultimately lead to higher sales.
---
Why is Customer Engagement Important?
As mentioned earlier, customer engagement offers various advantages to businesses.
In addition, customer engagement can also provide other benefits, such as:
1. Boosting customer loyalty and retention
When brands engage with customers on a personal level, it builds trust and fosters lasting relationships.
This increased loyalty means customers are more likely to stick with the company and recommend it to others.
Loyal customers also tend to spend more, which can positively impact a brand's profitability. As such, increasing customer loyalty and retention can effectively boost sales and revenue over time.
Read more: How to improve customer retention
2. Spotting Sales Opportunities
Engaged customers are more likely to share feedback and insights about a brand's products or services.
By actively listening to this feedback, brands can identify opportunities to improve their offerings or develop new ones tailored to customer needs.
Moreover, engaged customers may be more receptive to purchasing additional products or services.
3. Streamlining the sales cycle
Engaging with customers at various points in the sales cycle helps move them through the process more efficiently.
Providing helpful information and addressing customer questions can lead to quicker purchase decisions, reducing the time it takes to close a sale and enhancing the overall customer experience.
4. Increasing the number of your customers
Engaged and satisfied customers are more likely to recommend a brand to others. This word-of-mouth promotion can lead to an influx of new customers over time.
Furthermore, engaged customers are inclined to leave positive reviews and share their experiences on social media, which can attract even more potential customers online.
---
Level Up Your Customer Engagement Strategy
Now that we understand its importance, how can we create an effective customer engagement strategy?
Here are some key steps:
Know Your Customers: Understanding your audience is fundamental. What are their preferences, pain points, and expectations?
Personalization: Tailor your interactions to each customer. Personalized experiences make customers feel valued.
Surveys and Feedback: Actively seek feedback from customers. What do they like? What can be improved?
Omnichannel Approach: Ensure a seamless experience across all touchpoints. Customers should feel connected whether they're on your website, social media, or in-store.
---
Customer Engagement in Multiple Fields
Customer engagement is a valuable approach applied in various fields, including marketing, sales, and customer service.
Here's how customer engagement is utilized in these different areas:
Customer Engagement Marketing
Customer engagement marketing is about establishing connections and developing relationships with customers to inspire them to promote a company's products or services and develop loyalty.
This involves using social media, digital technology, and in-person events to engage in activities and communication that build relationships, retain customers, and drive sales.
Customer Engagement Sales
Engagement sales means a business strategy that's all about making long-lasting friendships with customers and getting them interested fast.
The aim is to have friendly chats with customers, give them useful, personalized experiences, and make them big fans of the company's stuff.
So, businesses can turn customers into loyal supporters who love their products and stick around for the long run.
Customer Engagement Service
The engagement service plan is all about making a customer's experience with a company better by building special connections and keeping them engaged.
It involves talking to customers, listening to what they have to say, and giving them experiences that fit them personally and really help them out.
This plan's goal is to create loyal customers of the brand who love the company's products and spread the word about them.
---
How to Measure Customer Engagement?
Evaluating customer engagement comes in various shapes, depending on a company's goals and how they interact with customers, plus the tools they use.
Here are a couple of common methods for measuring customer engagement:
1. Customer retention rate

The customer retention rate tells us how many customers stick around with a company over time. If this rate is high, it means customers are happy with what the company offers.
To figure it out, you divide the number of customers at the end of a period by the number at the start, then multiply by 100.
But here's the catch: A high retention rate doesn't always mean customers are actively engaged. Sometimes, they stick around just because it's easy or out of habit. So, it's smart to use other ways to check if customers are really engaged.
Also Read: Reasons to Improve Customer Retention: Strategies for Success
2. Customer feedback

Getting customer feedback through surveys, reviews, or social media is like getting a peek into how engaged customers are with a company.
Getting customer feedback through:
Surveys
Reviews
social media
is like getting a peek into how engaged customers are with a company.
When you ask customers how happy they are, what they think, or ask specific questions, you can figure out where they're really engaged or not so much.
And if you use social media tools, you can keep an eye on what customers are saying about the brand and how they feel. It's like eavesdropping on their conversations.
3. Customer lifetime value (CLV)

Customer lifetime value (CLV) is a way of estimating how much money a customer will bring to a company over the course of their relationship with that company.
When we calculate CLV, it gives us clues about how much customers are committed to the company's products or services. Usually, customers who stay active and buy more tend to have a higher CLV.
To find out CLV, we just multiply the average value of each purchase by how many times a customer buys in a year, and then by how long the typical customer stays with us.
4. Social media engagement

Monitoring social media engagement means paying attention to how customers interact with a company's social media posts.
By keeping an eye on things like how many likes, comments, and shares the company's posts get, we can figure out how much customers care about the company's brand and what it's sharing.
Special tools for social media analytics help us track these engagement numbers over time and see if there are any trends in how customers are acting. It's like having a magnifying glass on customer behavior.
5. Net Promoter Score (NPS)

The Net Promoter Score (NPS) measures customer loyalty and satisfaction. Customers are simply asked how likely they are to recommend a company to others, rating it on a scale from 0 to 10.
Customers who give a 9 or 10 are big fans and are called promoters. Those who rate 0 to 6 are less thrilled and are called detractors.
To calculate the NPS, we subtract the percentage of detractors from the percentage of promoters.
A high NPS score usually means customers are really engaged because engaged customers often tell their friends and family about the company.
---
Customer Engagement Example
You've probably heard of Nike, right? They're a big deal in the world of shoes and sports gear. They don't just sell shoes; they offer all kinds of sports-related stuff.
Nike has a campaign to increase their customer engagement as do several of the brands below:
1. Nike By You Custom Shoes
Now, Nike has this cool thing called "Nike By You Custom Shoes" to boost their connection with customers. It's a program that lets you personalize the Nike shoes you want to buy.
You can customize a wide range of shoes, from everyday ones like Nike Air Force 1 to sport-specific kicks. But here's the thing, custom shoes cost more than the regular ones you find in the store because they're made just for you.
Surprisingly, this program has grabbed the attention of many people, especially sneaker enthusiasts who love collecting shoes. It's all about giving customers a unique experience, and that's what's making them engage more with Nike.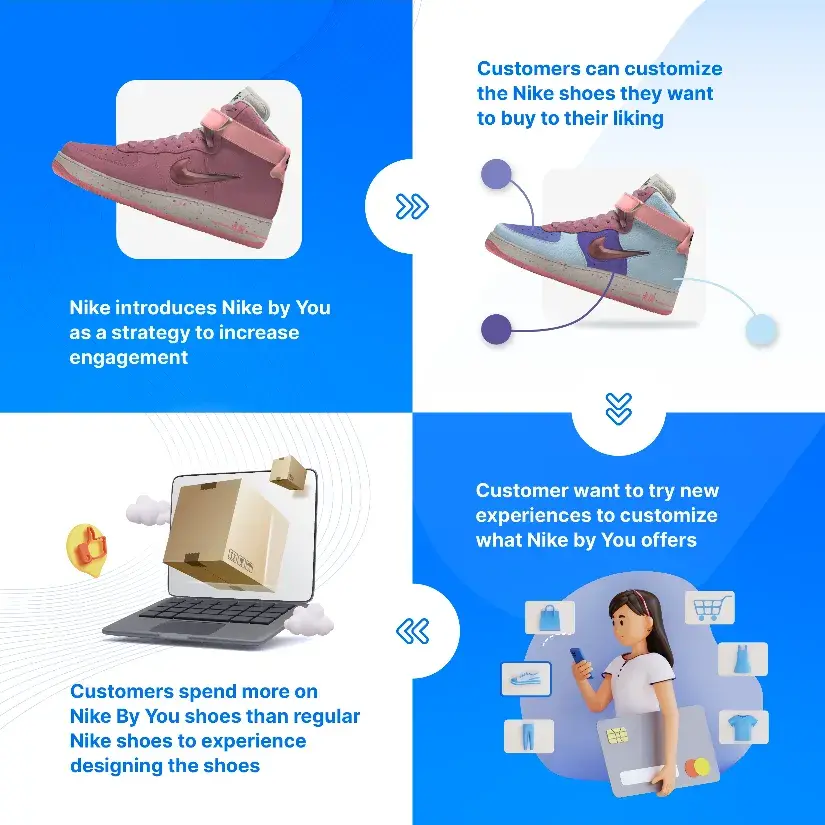 2. Spotify Wrapped
Spotify Wrapped is a viral marketing campaign by Spotify that has been an annual tradition since 2016. In each December, it lets Spotify users see a summary of their activity on the platform from the past year and encourages them to share it on social media.
Back in 2015, Spotify introduced "Spotify Wrapped" to test its connection with trending topics. Since then, every year, they've been using this viral marketing campaign to give a big boost to their music streaming platform.
During 2020, based in research from Apptopia, Spotify Wrapped played a big role in boosting Spotify's mobile app downloads, causing a 21% increase in the first week of December.
3. Creative TV Show Campaign from IKEA
Ikea strategically featured its products in famous movies, like "Fight Club" and "500 Days of Summer." This clever move subtly introduces viewers to Ikea's items in real-life scenarios, making them feel more relatable.
When people spot these products from the films, it often encourages them to visit Ikea stores or the website to buy similar items, which is a win for Ikea's business.
These strategies succeed by using the fame of TV shows and movies to grab the audience's interest and spark feelings of nostalgia or a craving for the highlighted products. They create a buzz on social media and stimulate people talking about them. This increased exposure often translates into higher customer engagement.
---
Supercharge Your Customer Engagement with Mekari Qontak!
Customer engagement means building relationships with customers through positive interactions and enjoyable experiences.
By actively engaging with customers, businesses gain insights into their preferences and needs, which can be used to enhance products and services and drive long-term success.
To boost your customer engagement efforts, consider utilizing Omnichannel and CRM software like Mekari Qontak.
These versatile tools facilitate smooth communication with customers across various channels, including email, social media, and phone.
Explore Mekari Qontak today and discover how it can elevate your customer engagement strategies!