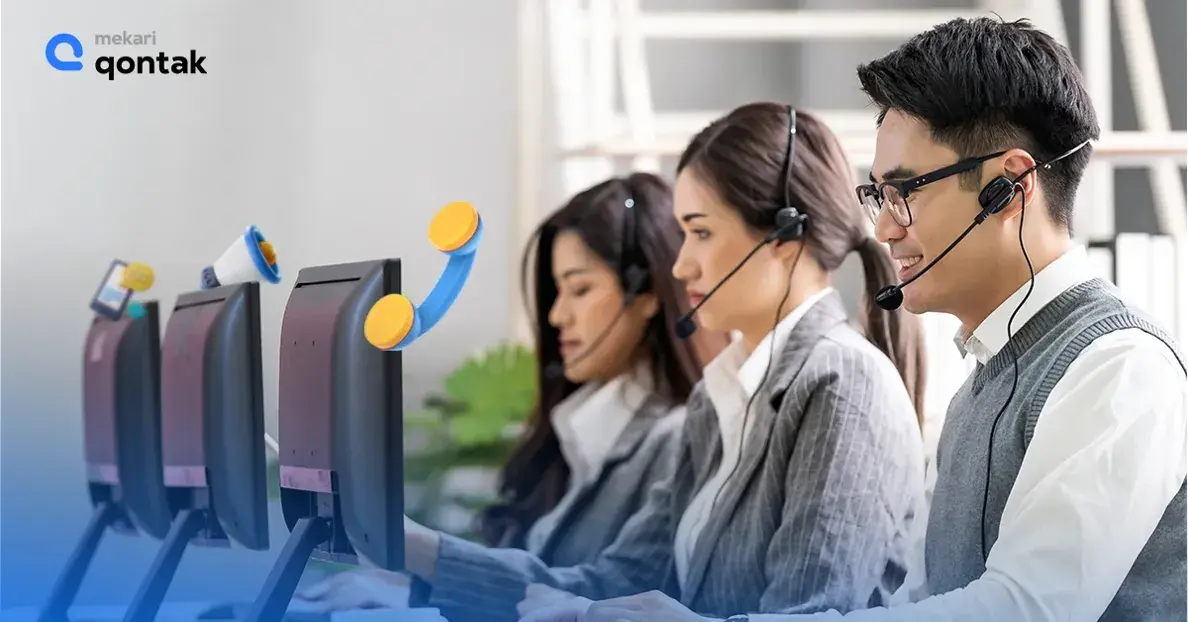 Have you ever called a customer service number and been connected to an agent who helps you with your inquiry or problem? That agent is likely working in a call centre.
Call centres are essential for businesses to provide efficient and effective customer support.
In this article, we will examine what call centers are and how they work. Join us as we explore the world of call centres!
---
What is a call centre?
A call centre is a place where people answer phone calls from customers. They try to help the customers by giving them the information they need.
Some businesses also use call centres to make phone calls, offer things, talk to customers, or collect debts.
Having a call centre can help businesses give better service to their customers. A call centre is like a big office where people answer many phone calls.
They can be called names like contact centres, customer service centres, or help desks. Sometimes businesses run their call centres or hire another company to do it for them.
---
What is the difference between a call centre and a contact centre?
The difference between a call centre and a contact centre is that a call centre only deals with phone calls.
In contrast, a contact centre can handle various communication channels like emails, chats, social media, and video calls.
A call centre's primary focus is on managing phone-based interactions, whereas a contact centre provides more diverse customer communication options.
Contact centres also have more advanced features like omnichannel routing, customer data integration, and analytics tools to provide a better overall customer service experience.
---
What are call centre duties?
The primary responsibility of a call centre is to handle customer calls, both incoming and outgoing.
Other tasks of a call centre include:
Answering customer inquiries: Call centre agents are responsible for answering incoming customer calls and providing them with the necessary information.
Making outgoing calls: Call centre agents may also make outgoing calls to follow up on previous inquiries or provide information.
Handling complaints: Call centre agents are responsible for addressing customer complaints and resolving any issues they may have.
Providing information: Call centre agents should thoroughly understand the products or services offered by the company and be able to provide customers with the information they need.
Processing orders and payments: Call centre agents may also be responsible for processing customer orders and payments.
Maintaining records: Call centre agents are responsible for maintaining customer records and databases.
Escalating issues: Call centre agents should be able to identify and escalate complex issues to supervisors or managers.
---
What does a call centre work?
A call centre typically has a team of agents who handle incoming and outgoing phone calls from customers. To streamline the process, companies often rely on call center software.
When customers call in, an automated voice response system (IVR) helps direct their call to the appropriate agent or department based on the reason for their call. Then, the agent greets the customer and listens to their question or concern.
Agents are trained to provide excellent customer service and help resolve issues as quickly and efficiently as possible.
They can answer questions, provide technical support, offer product recommendations, or address billing or account issues.
Call centres may also use other communication channels like email, chat, social media, and video calls to communicate with customers.
This allows customers to communicate through their preferred channel and helps provide a more personalized and engaging customer experience.
To ensure customers get the best service possible, call centres may use advanced technology such as automated call distribution (ACD) to help route calls to the appropriate agent and reduce customer wait times.
They may also use customer relationship management (CRM) software to track customer interactions, record call data, and analyze customer feedback to improve the quality of service provided.
---
Type of call centres
Call centres can be classified into 5 (five) types:
1. Inbound call centres
These call centres receive calls from customers who need help or have questions about products or services.
Agents are trained to provide customer service and support, resolving issues and answering questions.
2. Outbound call centres
These call centres call customers for sales, marketing, or follow-up purposes. Agents may try to sell products or services, conduct surveys, or gather information.
3. Blended call centres
These call centres handle both inbound and outbound calls, depending on the needs of the business.
Agents may switch between answering customer service calls and making sales calls throughout the day.
4. Virtual call centres
These call centres operate remotely, with agents working from home or other locations rather than in a physical call centre.
Calls may be routed to agents' phones or computers using cloud-based technology. This allows for more flexibility in scheduling and reduces the need for a physical call centre space.
5. Omnichannel call centres
An omnichannel call centre is a customer support system that allows customers to interact with a company through multiple channels, such as phone, email, chat, social media, and messaging apps.
The goal is to provide a seamless and consistent experience across all channels, so customers can switch between them as needed without having to repeat themselves or start over.
This can improve customer satisfaction and loyalty and increase the call centre's efficiency and productivity.
Also Read: Understanding What is Omnichannel and Definition, Benefits, Strategy, and Examples of Omnichannel Customer Services
---
Call centre teams and structure
Call centre teams typically have a hierarchy of roles, each with its responsibilities and duties.
Here is an overview of some common positions and their functions within a call centre:
1. Call centre Manager
This person oversees the entire call centre and ensures that it operates effectively and efficiently. They manage the call centre's overall strategy, performance, and budgets.
2. Team Leaders or Supervisors
These individuals manage a team of agents and ensure they meet their targets and provide high-quality customer service.
They are also responsible for coaching and training agents to improve their performance.
3. Agents
These are the front-line staff handling incoming and outgoing customer calls.
They are responsible for providing excellent customer service, resolving customer issues, and meeting performance targets such as call volume and customer satisfaction.
4. Quality Assurance Analysts
These individuals monitor and assess the quality of calls and interactions between agents and customers.
They provide feedback to agents and managers on areas for improvement and help ensure that the call centre meets its quality targets.
5. Technical Support Specialists
These individuals have specialized knowledge and expertise in technical areas such as software, hardware, or telecommunications.
They provide support to agents and customers on technical issues and work to resolve more complex problems.
6. Trainers
These individuals are responsible for training new agents and providing ongoing training and coaching to existing agents to improve their skills and performance.
Note: The structure of a call centre can vary depending on the size and complexity of the operation. In some call centres, a single team leader or supervisor may manage a team of agents.
In larger call centres, there may be multiple layers of management and more specialized roles, such as quality assurance analysts or technical support specialists.
The call centre may also be divided into different departments based on the type of calls or issues they handle, such as sales, customer service, or technical support.
---
What are the characteristics of a good call centre?
To provide excellent customer service, call centre agents, also known as contact centre agents, are critical.
These agents require various skills to be effective in their roles and create a positive customer experience.
Here are some call centre skills of a good call centre:
Understanding the business and customers: Call centre agents should know about the company's products and services and understand the customers' needs.
Attention to detail: Agents need to pay attention to every detail of a customer's problem to provide effective solutions.
Good organizational skills: Call centre agents should be able to handle multiple tasks at once using technology like CRM while still meeting customer needs.
Calm under pressure: Agents should remain calm and composed even when dealing with emotional or demanding customers.
Good communication skills: Agents should communicate with customers, listen to their needs, and provide effective solutions.
Friendly: Agents should be polite and friendly, positively representing the company.
Flexible: Agents should be able to handle diverse customers with different needs and adapt to changing situations.
Efficient: Agents should be able to take calls quickly and efficiently, with minimal hold times.
Knowledgeable: Agents should be well-trained and knowledgeable about the products and services they support.
Professional: Agents should always be professional and courteous, focusing on providing high-quality customer service.
Technology-driven: Call centres should use technology to streamline processes and improve customer services, such as through automated call routing or chatbots.
Creative: Call centres should find innovative solutions to customer problems, meeting the needs of the company and the customers in the best way possible.
---
Call centre technology
There are various technologies used in call centres to manage and enhance the customer service experience. Here are some of the most common call centre technologies:
Automatic Call Distributor (ACD): A software system that routes incoming calls to the right agent or department based on the reason for the call.
Interactive Voice Response (IVR): An automated phone system that uses voice recognition or keypad inputs to offer self-service options to callers.
CRM software: A CRM system that manages customer interactions and stores important customer information such as contact details, purchase history, and preferences.
Predictive dialer: A software system that automatically dials a list of phone numbers and routes answered calls to available agents.
Computer Telephony Integration (CTI): A technology that allows call centre agents to access customer information stored in the CRM system directly from their computer screens.
Voice over Internet Protocol (VoIP): A technology that allows calls over the internet rather than traditional phone lines.
Speech recognition: A technology that uses natural language processing to understand and respond to spoken commands.
Analytics and Reporting: Tools that track and analyze key performance metrics, such as call volume, wait times, and customer satisfaction scores, to help managers identify areas for improvement and optimize operations.
---
What are the business benefits of using a call centre?
A call centre is a great way for businesses to provide excellent customer service, leading to happy customers and repeat business.
Here are some benefits of using a call centre:
Lower cost: Although setting up a call centre might seem expensive initially, it can save businesses money in the long run by providing a centralized and efficient way to handle customer inquiries.
Remote team: Call centres can be operated by a small team of remote employees, which can save businesses even more money.
Flexibility: Call centres can be used for more than just managing calls and information. They are also easy to use and can be customized to fit the needs of each business.
Productivity: Call centres can improve employee productivity with features like automated call routing and monitoring tools.
Improved customer relationships: Providing excellent customer service can improve customer relationships, leading to higher satisfaction and loyalty.
Increased sales: Call centres can generate leads and cross-sell products and services to customers.
Cost-effective: Call centres can be a cost-effective way to handle significant customer inquiries.
24/7 availability: Many call centres offer 24/7 availability, allowing businesses to provide their customers round-the-clock support.
Data collection and analysis: Call centres can provide valuable data on customer needs, preferences, and behaviors, which businesses can use to improve their products and services.
---
Examples of call centres across industries
Call centres are widely used across industries to provide customer service and support.
Here are some examples of call centres across different industries:
1. Financial services
Banks and credit card companies in the financial services industry have call centres to provide account information, help with fraud prevention, and assist customers with online banking.
Customers can call the centre to get information about their account balances, make payments, or dispute fraudulent transactions.
2. Retail
In the retail industry, e-commerce companies and traditional retailers have call centres to provide customer support for online orders, help with returns and exchanges, and assist with product inquiries.
This allows customers to get answers to their questions and resolve any issues related to their purchase.
3. Healthcare
The healthcare industry has also embraced the use of call centres to assist with appointment scheduling, billing, and claims inquiries and provide general health information.
This allows patients to quickly connect with a representative who can help them navigate complex healthcare systems and insurance processes.
4. Telecommunications
Telecom companies also use call centres to assist with account management, troubleshooting technical issues, and providing support for billing and service questions.
This helps customers resolve problems with their phone, internet, or cable service and ensures they receive timely support when needed.
5. Travel and Hospitality
Travel and hospitality companies also rely on call centers to assist with reservations, cancellations, and general customer support.
Airlines, hotels, and rental car companies have call centres that help customers book travel, change their itineraries, and provide reservation information.
Also Read: WhatsApp API for Travel and Hospitality Industry – Case Studies
6. Government
Government agencies such as the IRS and Social Security Administration also have call centres to assist with taxes, benefits, and other government programs.
This helps ensure that citizens can access information and services offered by the government and get their questions answered promptly and efficiently.
7. Education
In the education sector, colleges and universities have call centres to assist with enrollment, financial aid, and academic advising.
This helps students navigate complex educational systems and make informed decisions about their academic careers.
---
Conclusion
In summary, call centers are essential for providing customer service and support to businesses across various industries.
As technology advances, call center operations become increasingly sophisticated, allowing businesses to offer exceptional customer service.
If you're looking for top-of-the-line call center software, consider checking out Mekari Qontak.
Check out Mekari Qontak's call center software today and discover how it can enhance your operations and improve your customers' experience!