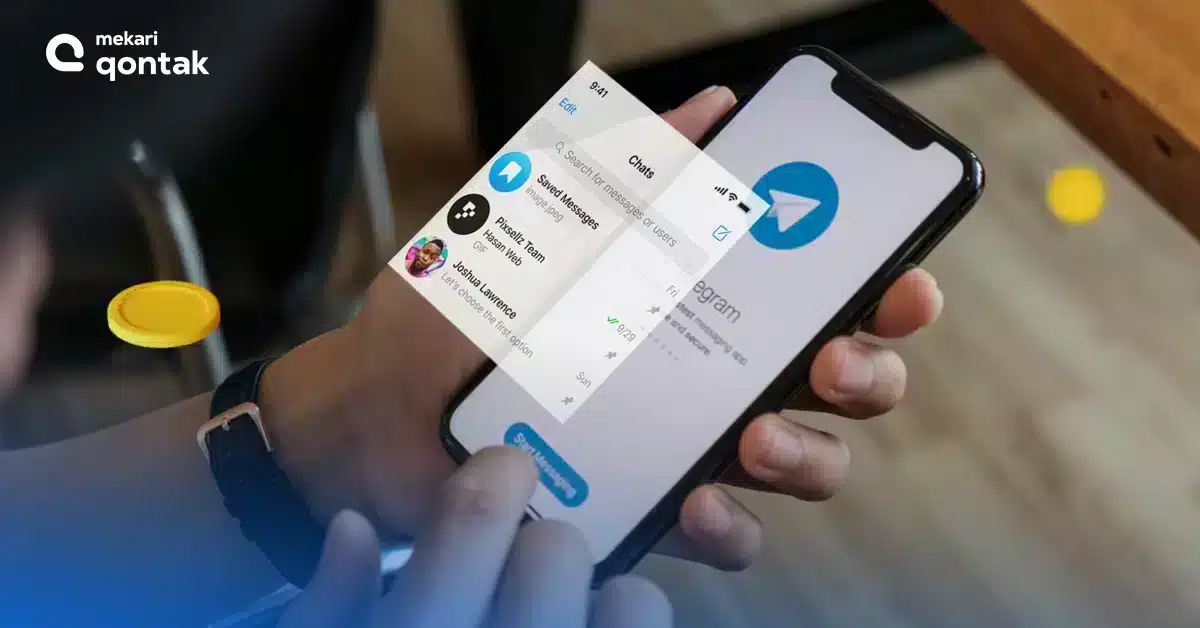 You must be familiar with this messaging app, Telegram; this is a messaging app that offers fast, secure, and reliable communication for individuals and businesses. Unlike other messenger apps, Telegram doesn't require a phone number for registration, and it refrains from storing your data on its servers.
Instead, it employs end-to-end encryption to safeguard your messages from third parties. Additionally, you can access Telegram from multiple devices, including phones, tablets, and computers.
As you know, Telegram serves not only as an exceptional tool for personal use but also for business purposes. It enables you to connect with your customers, promote your products or services, engage in online sales, and provide customer support.
---
Telegram Features
'What are the features of Telegram that can be used for business?'. Telegram has many features that make it ideal for business, such as:
1. Voice and Video Calls
You can make voice and video calls on Telegram, ensuring real-time, face-to-face communication with clients, team members, or partners.
This is useful for virtual meetings and providing customer support.
2. Groups
Telegram allows you to create groups with up to 200,000 members.
This is perfect for building communities around your brand, gathering feedback, sharing updates, and fostering interaction among your customers or employees.
3. Channels
Channels are like one-way broadcast platforms. You can send messages to an unlimited number of subscribers.
Businesses can use channels to promote products, share news, and drive traffic to their website or social media. It's an excellent marketing tool.
4. Bots
Telegram offers a Bot API that lets you create automated bots.
These bots can perform various tasks, such as sending notifications, answering frequently asked questions, collecting feedback, processing payments, and more.
For businesses, this can streamline customer service and automate routine tasks.
5. Secret Chats
These are end-to-end encrypted one-on-one chats that provide an extra layer of security. Businesses can use secret chats for confidential discussions or sharing sensitive information securely.
6. Self-Destructing Messages
Telegram allows you to send messages with a self-destruct timer, ensuring that sensitive information is automatically deleted after a set time.
This can be beneficial when sharing temporary access codes or confidential data.
7. Media Sharing
You can send and receive various media types, including photos, videos, audio, documents, stickers, and more.
Businesses can use this feature to showcase their products or services, create engaging content, and enhance communication with visuals.
8. File Sharing
Telegram supports the sharing of large files and documents, making it a helpful tool for transferring business-related documents, contracts, and reports.
9. Link Previews
When you share a link on Telegram, it automatically generates a preview with a title, description, and image. This helps share blog posts, news articles, or product pages.
10. Inline Bots
Telegram's inline bots allow users to interact with bots directly in the chat, providing quick access to information, services, or products.
Businesses can create inline bots to facilitate customer inquiries and provide information efficiently.
11. Scheduling Messages
Telegram lets you schedule messages at a specific date and time. This feature is handy for planning marketing campaigns and sending announcements immediately.
12. Multi-Platform Support
Telegram is available on various mobile devices, tablets, and desktop computers.
This ensures that businesses can stay connected with customers and team members regardless of the device they're using.
13. Voice Messages
You can record and send voice messages, which can be beneficial for conveying detailed information or providing personalized responses in customer support.
14. Location Sharing
Share your real-time location with others. Businesses can use this feature for location-based marketing or providing directions to physical stores or event venues.
---
Regions that Use Telegram for Business
Telegram is widely used by businesses in various regions worldwide, especially in countries where other apps are banned or restricted.
Some of the regions that use Telegram for business are:
India
India is the largest market for Telegram, accounting for more than 20% of its user base. Telegram is used by businesses in India for marketing, customer support, e-commerce, and social services.
For example, Zomato is a food delivery app that uses Telegram to send order updates and offers to its customers.
Russia
Russia is the home country of Telegram's founder, Pavel Durov, and one of the most active countries on the platform.
Telegram is used by businesses in Russia for communication, collaboration, cloud storage, and media distribution.
In March 2022, Telegram's popularity increased in Russia after Meta platforms Facebook and Instagram were banned in the country.
Iran
Iran is one of the countries with heavy censorship and surveillance, where Telegram offers a secure and private alternative to other messaging apps. Thus, it is not surprising that Telegram has become one of the most popular messaging applications in Iran, with over 40 million users.
In Iran, Telegram is used by businesses for social services, games, productivity, and human support. Not only that, many companies use Telegram to sell online and receive payments through local payment systems.
Brazil
Brazil is another country where Telegram has many users, especially among young people.
Telegram is used by businesses in Brazil for marketing, customer support, e-commerce, and social services.
---
How to Set Up a Business Account on Telegram
To use Telegram for your business, you must create a business account on Telegram. Here are the steps to do so:
Download and install the Telegram app on your device.
Open the app and tap the menu icon in the top left corner.
Tap on Settings and then on Edit Profile.
Choose a name for your business account and upload a profile picture.
Tap on Username and enter a unique username for your business account. This will be your public link that you can share with your customers.
Tap on Bio and write a short description of your business and what you offer.
Tap on Save to finish setting up your business account.
Now, you have a business account on Telegram that you can use to communicate with your customers and grow your business.
---
Tips on Optimizing Your Business Profile on Telegram
Here are some tips on how to optimize your business profile on Telegram:
Use a clear and catchy name that reflects your brand identity and value proposition.
Use a high-quality and relevant profile picture representing your brand image and personality.
Use a short and informative bio summarizing what your business does and what makes it unique.
Use a memorable username that is easy to spell and pronounce. Avoid using numbers or symbols that might confuse your customers.
Link your website or social media accounts to your bio if you have any. This will help you drive more traffic and conversions.
Update your profile regularly with new information and offers. This will keep your customers interested and engaged.
Apart from using the tips above, you can also maximize your business on Telegram using the Telegram API from Mekari Qontak. This powerful API offers many possibilities for enhancing your business operations and customer engagement.
With the Telegram API from Mekari Qontak, you can streamline your messaging and support processes, making them more efficient and customer-centric.
Imagine having the capability to integrate your Telegram channels with your CRM system, making it easier to manage customer inquiries and data.
You can automate responses to frequently asked questions, ensuring that your customers receive instant support and information, even outside regular business hours.
References: