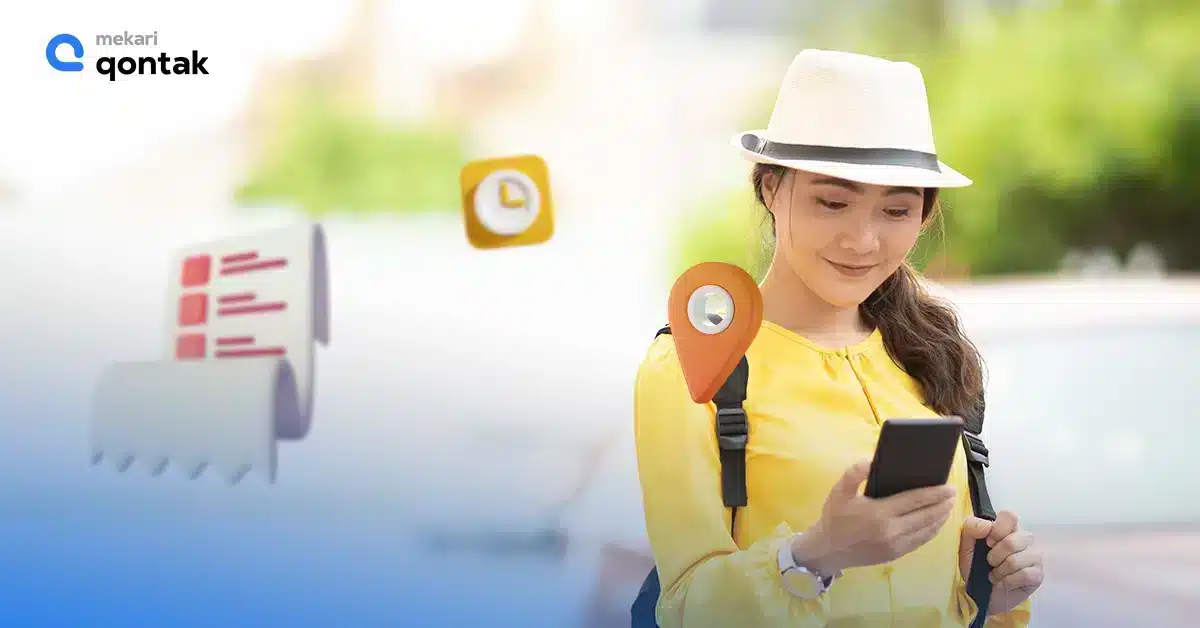 The travel, hospitality, and leisure industries are constantly evolving, driven by the need to provide seamless experiences to customers. To meet the evolving demands of travelers, businesses need to embrace innovative solutions.
One solution that has revolutionized customer needs is the integration of the WhatsApp API for the Travel and Hospitality industries. With its wide array of features and benefits, this powerful tool has become a game-changer for the industry.
In this article, we'll explore the benefits of incorporating the WhatsApp API into the travel industry and provide case studies to illustrate its impact on customer engagement and operational efficiency.
---
1. Reach More Customers
The travel and hospitality industry heavily relies on communication to connect with customers. With WhatsApp being accessed up to 25 times daily by users, businesses can reach a vast customer base.
By utilizing the WhatsApp API for Travel, businesses can automate important transactions and engage with potential customers seamlessly.
Flight and Hotel Booking Confirmations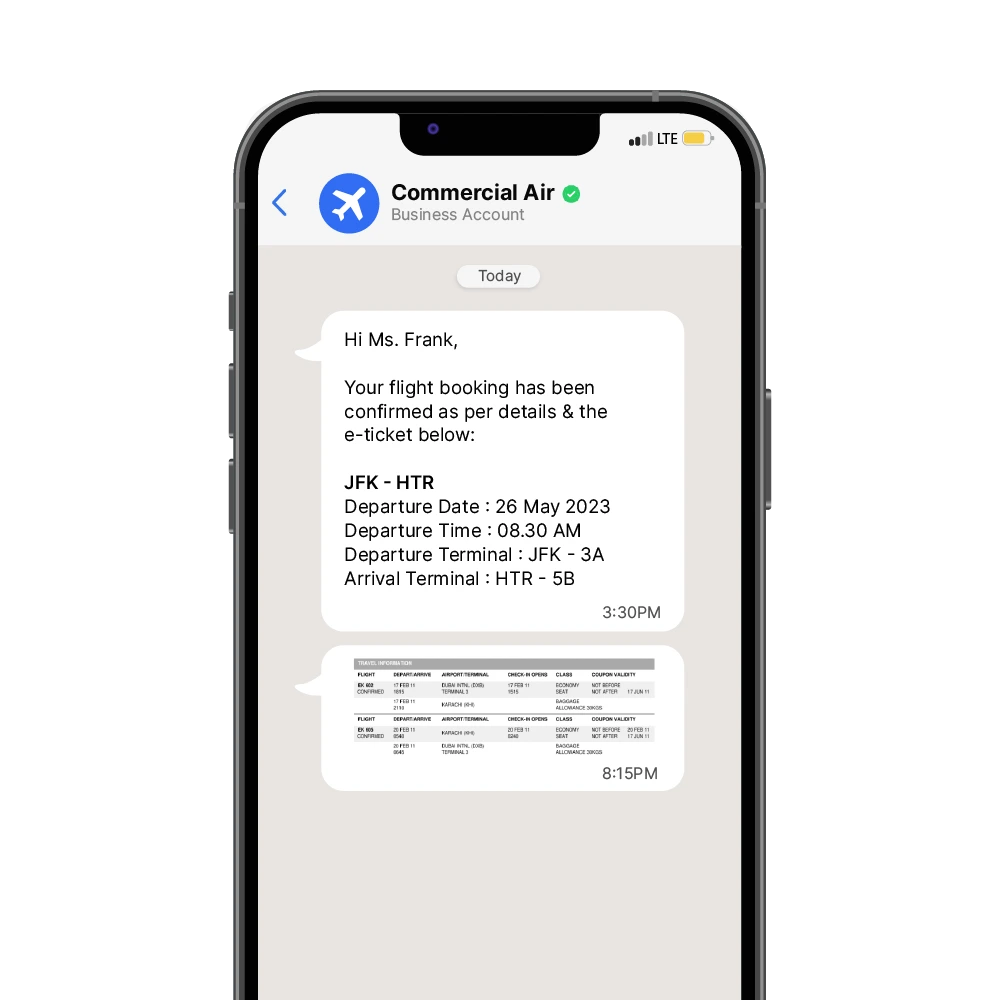 A leading travel agency implemented the WhatsApp Chatbot to automate sending booking confirmations to customers. Previously, their staff manually sent confirmation emails, which was time-consuming and prone to errors.
The agency streamlined the process by integrating the WhatsApp API, ensuring that customers receive instant confirmation messages directly on WhatsApp. This not only enhanced efficiency but also provided a seamless customer experience.
Discount or Promotional Campaigns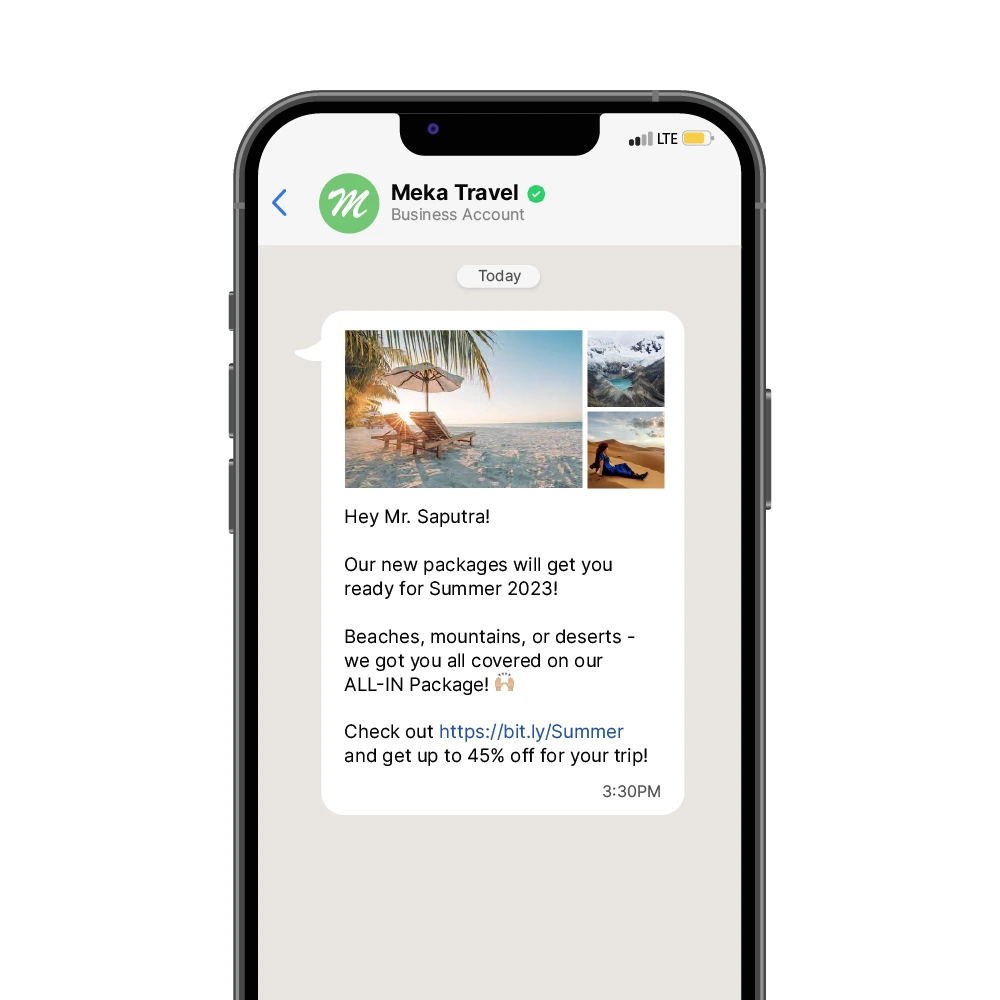 During peak seasons, a renowned hotel chain utilized the WhatsApp Blast feature to send personalized discount offers and promotional campaigns to their customer base.
The hotel chain captured customers' attention by attaching captivating images and videos showcasing their accommodations and amenities and enticed them to book directly through WhatsApp.
This targeted approach resulted in a significant increase in bookings during the promotional period.
Also Read: How to Send Blast Messages on WhatsApp
Complete Customer Support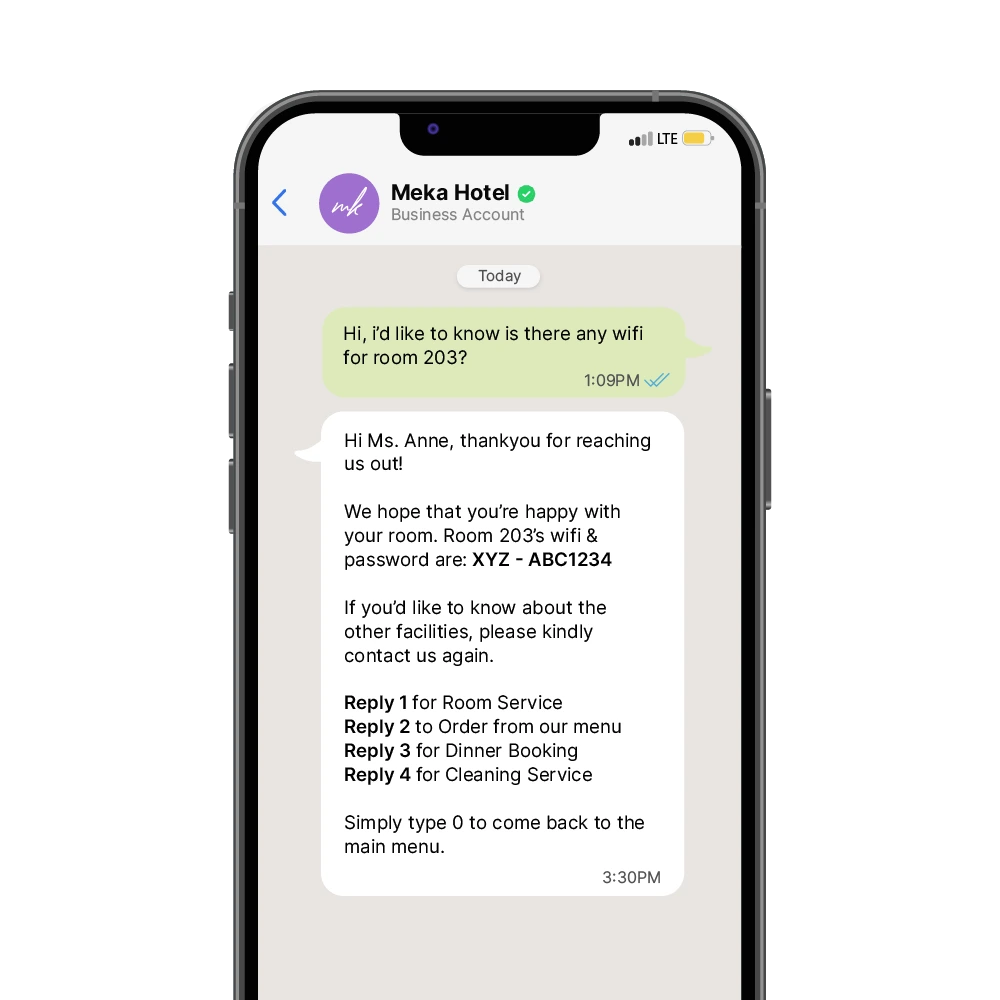 A leading online travel agency integrated the WhatsApp multiple agents feature to consolidate all customer needs into one business number.
With a team of dedicated agents managing customer inquiries, complaints, refunds, and other tickets through WhatsApp, the agency provided comprehensive customer support.
By centralizing communication channels and addressing customer needs promptly, they achieved higher customer satisfaction ratings and improved overall service quality.
2. A Safer Way to Share Information
Ensuring the security of customer data is paramount for travel and hospitality businesses. WhatsApp's end-to-end encryption provides a secure platform for sharing sensitive booking information, payments, and document collection information.
Itinerary Planning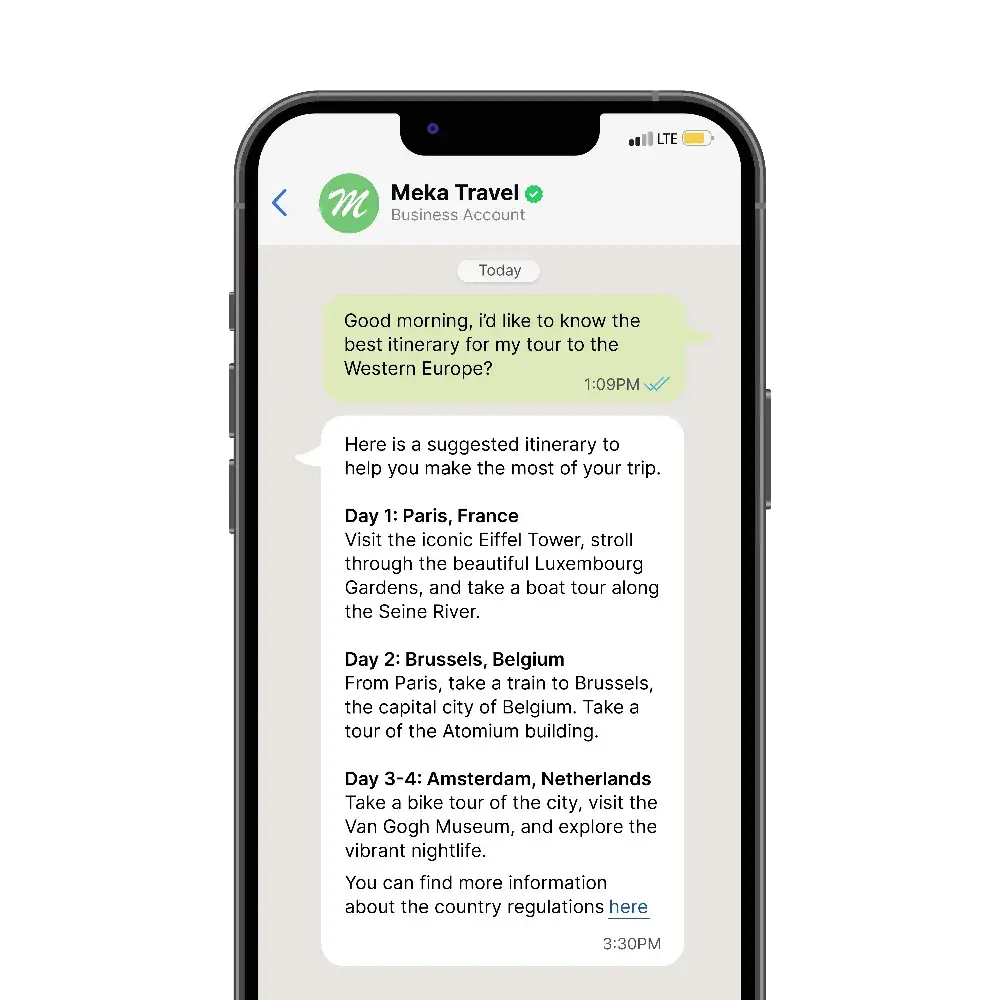 A luxury travel company leveraged the WhatsApp API Chatbot to share detailed itineraries with their high-profile clientele securely.
The company ensured the privacy and confidentiality of its customers' travel information by sending encrypted messages and attachments, including travel plans, flight details, hotel reservations, and excursion schedules.
This personalized and secure communication channel enhanced the overall customer experience.
3. Automated Messages for Efficient Communication
The ability to generate automated messages through WhatsApp Chatbot is a significant advantage for travel and hospitality businesses. It enables businesses to respond to customer queries and provide important notifications promptly.
Answering Customer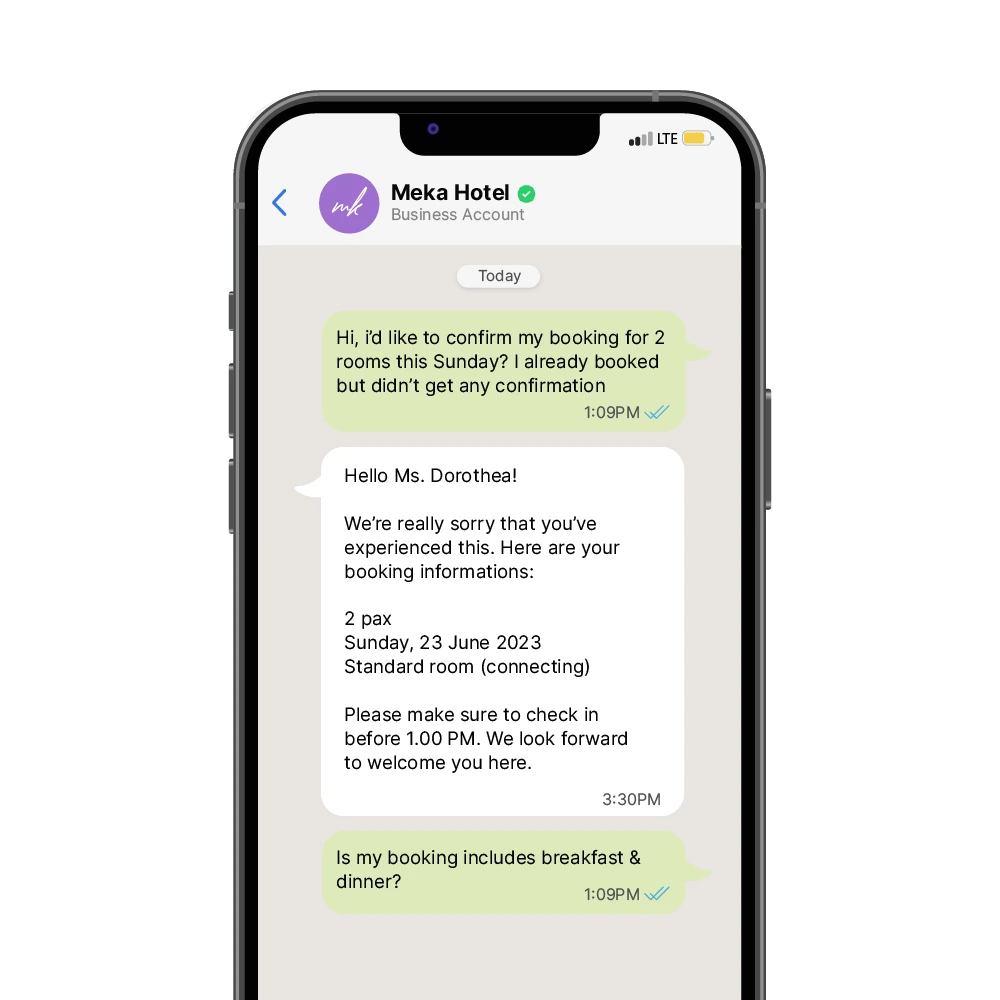 Queries and FAQs A popular hotel chain implemented a WhatsApp API Chatbot to handle general customer queries and frequently asked questions.
The chatbot was programmed to provide instant responses, guiding customers on the check-in and check-out procedures, room amenities, nearby attractions, and other common inquiries.
By automating these responses, the hotel chain's staff could focus on more complex requests, improving overall efficiency and customer satisfaction.
Read More: How to Set Up WhatsApp Chatbot
Faster Query Handling and Order Confirmation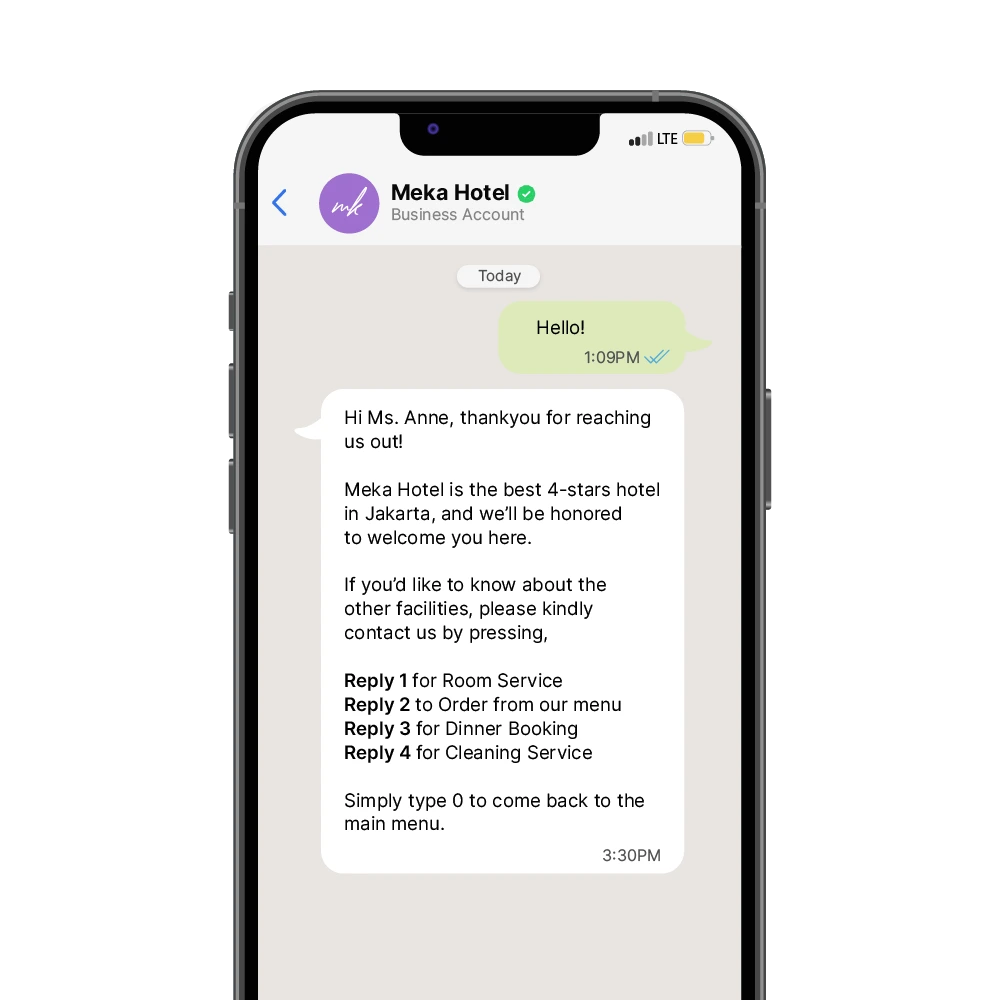 WhatsApp API for travel and hospitality enables businesses to handle customer queries promptly, ensuring efficient communication and faster order confirmations.
The chatbots could answer frequently asked questions, assist with bookings, and provide information on hotel facilities.
4. Customizable Campaign Messages and Greetings
WhatsApp API for travel and hospitality lets businesses personalize campaign messages, greetings, and notifications, enhancing customer engagement and satisfaction.
Reminders, Updates, and Notifications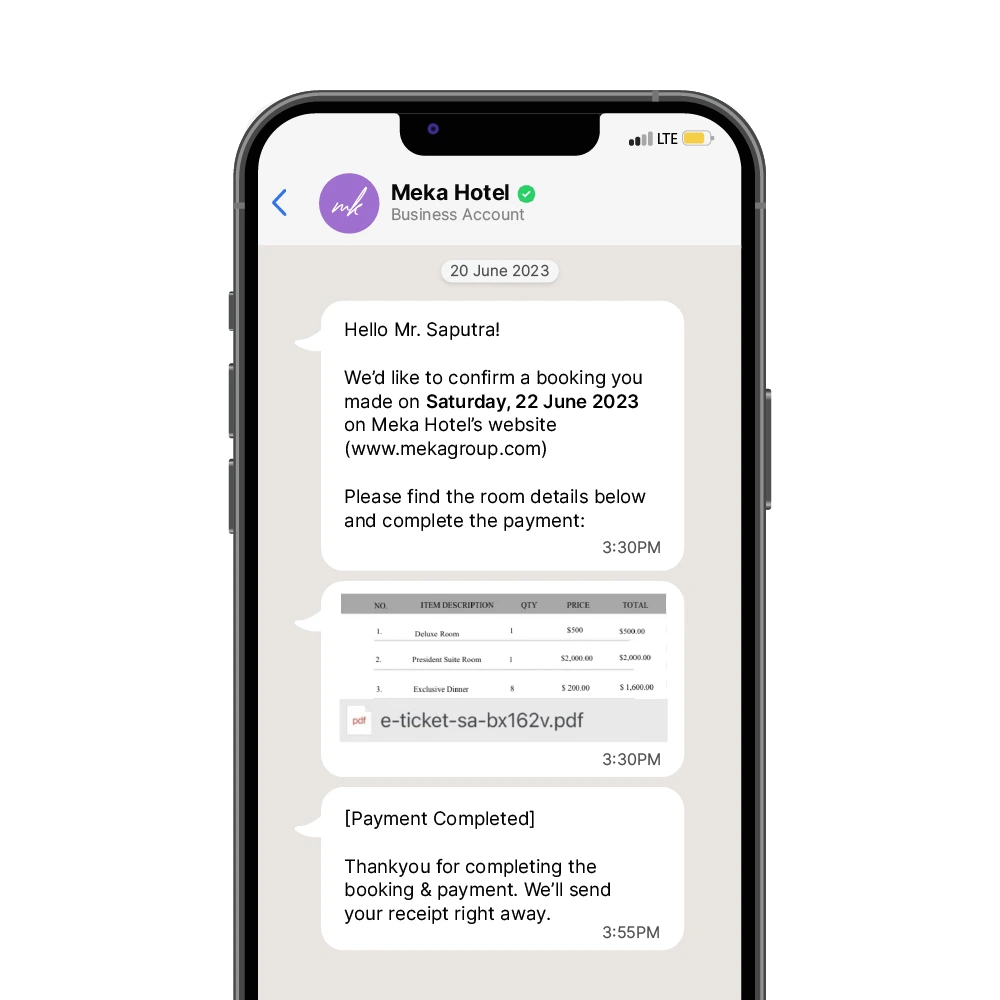 A travel agency integrated the WhatsApp Chatbot to send customers personalized reminders, updates, and notifications. These messages included flight departure reminders, itinerary updates, and essential travel advisories.
The agency improved customer engagement by tailoring the content to individual customers' preferences and needs and minimized the chances of missed flights or crucial information.
Enhanced Customer Service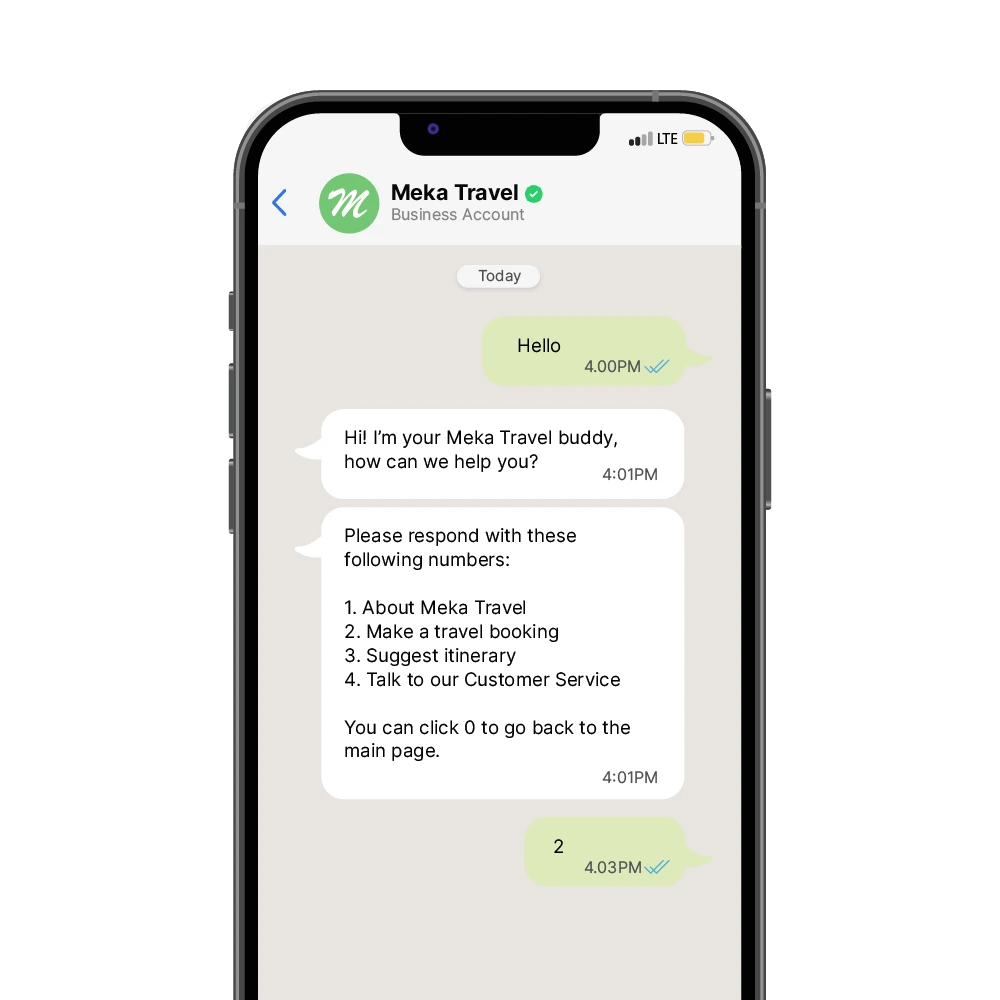 A luxury hotel chain utilized WhatsApp multiple users features to provide exceptional customer service. They personalized greetings for customers upon arrival, sent welcome messages, and facilitated requests for room upgrades or flight seat changes.
By integrating WhatsApp into its customer service strategy, the hotel chain established a direct and convenient channel for customers to communicate their needs, enhancing guest satisfaction and loyalty.
Read More: WhatsApp for Customer Service – A Guide for Businesses
5. Reduced Operational Costs Implementing
WhatsApp API for travel and hospitality can help businesses streamline operations and reduce costs associated with manual processes and customer support.
Collecting Customer Feedback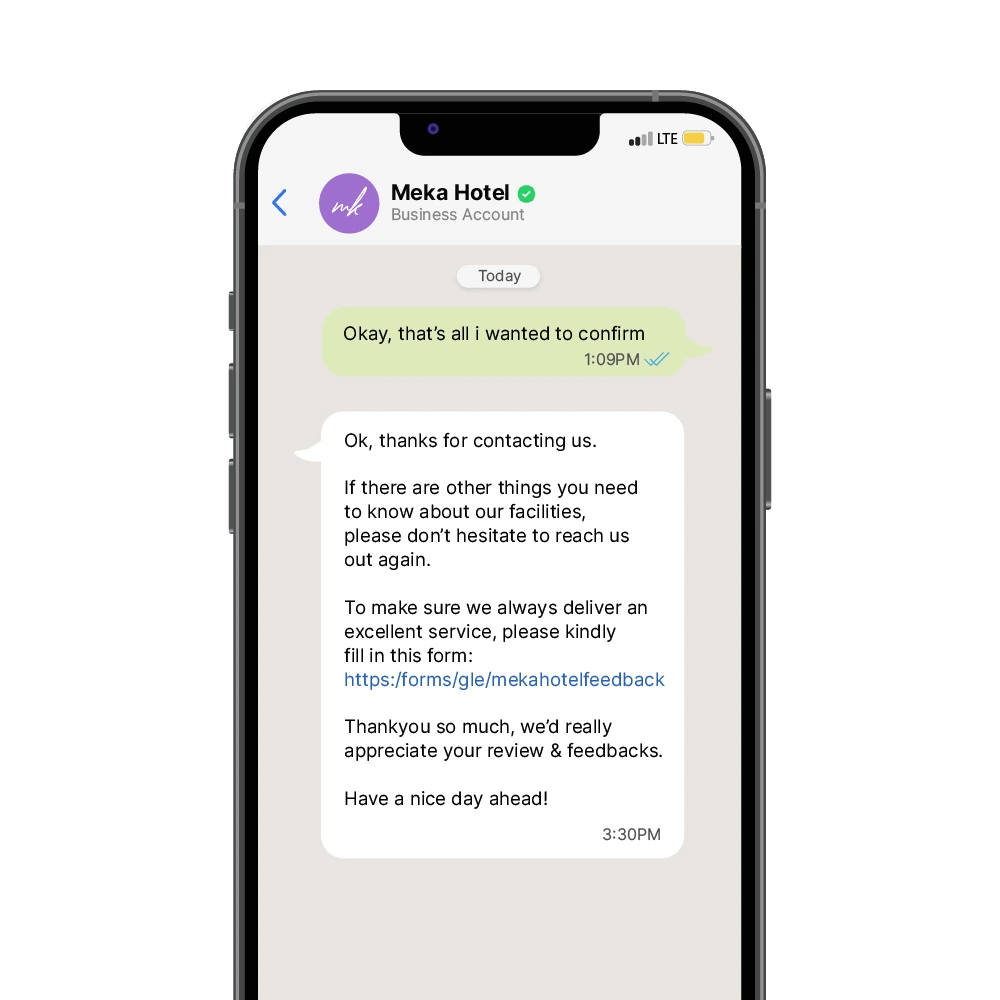 A tour operator leveraged the WhatsApp API Chatbot to collect customer feedback after tours and activities. The tour operator eliminated the need for extensive manual surveys and follow-ups by automating the feedback collection process.
The feedback obtained through the chatbot allowed them to gather valuable insights, make data-driven decisions, and continuously improve their services.
6. Multi-Language Availability for Customer Contact
WhatsApp API for Travel ensures global availability, enabling businesses to connect with customers worldwide effortlessly.
Multi-language Support for Visitors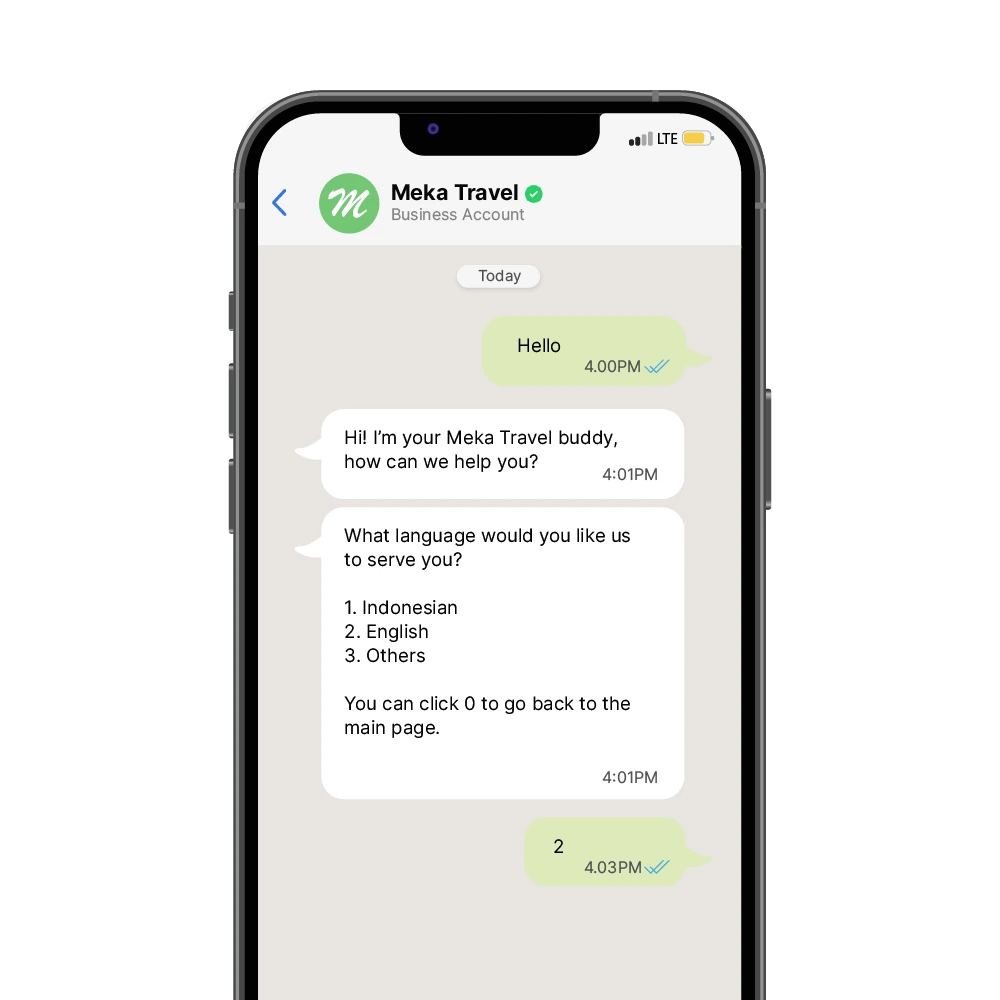 A tourist information center employed the WhatsApp API Chatbot to provide multi-language support for visitors.
The chatbot could understand and respond to queries in multiple languages, allowing tourists to obtain information in their preferred language. This personalized approach improved the overall tourist experience and enhanced satisfaction.
Automatically Sending Boarding Pass or E-tickets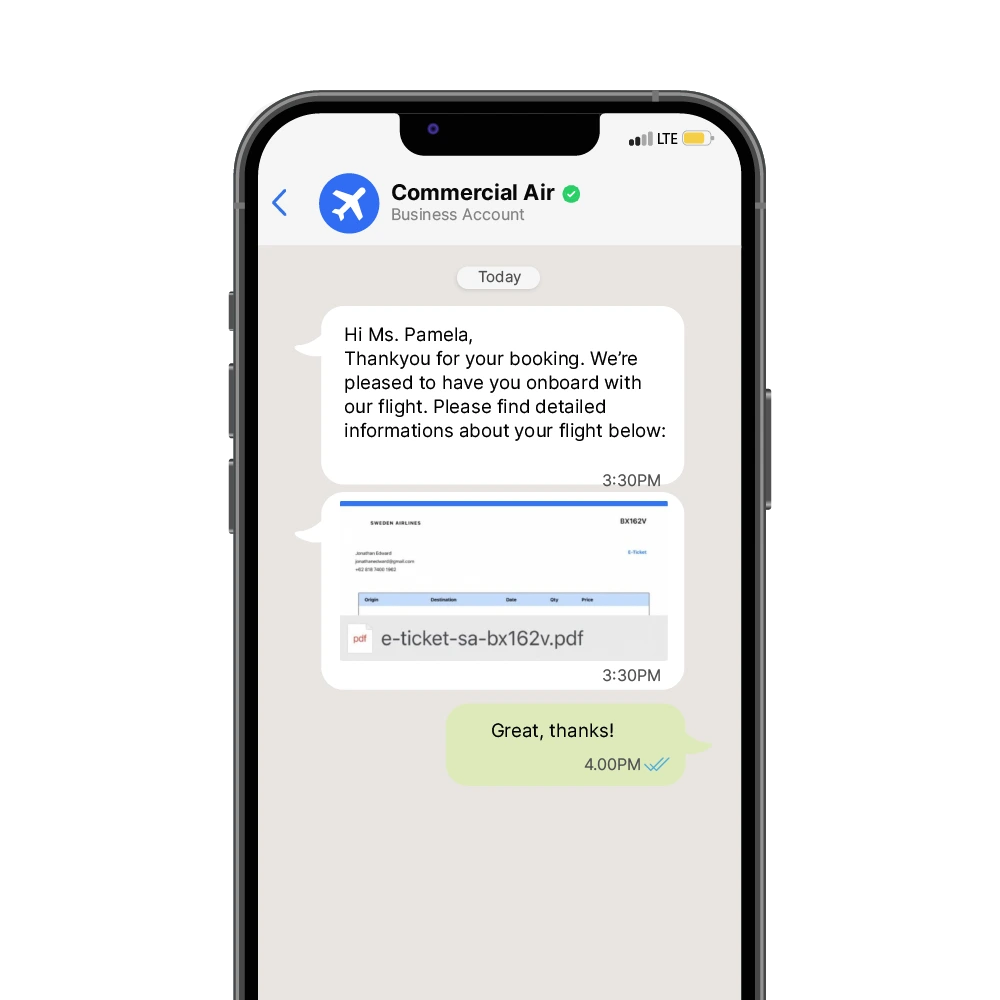 An airline integrated the WhatsApp Chatbot to automate the delivery of boarding passes and e-tickets to their customers.
By sending these crucial documents directly to customers' WhatsApp accounts, the airline simplified the check-in process and provided a convenient and globally accessible method for accessing travel documents.
7. Enhancing Customer Trust
The green tick verification feature on WhatsApp enhances customer trust and credibility, which is crucial in travel and hospitality.
Building Trust and Credibility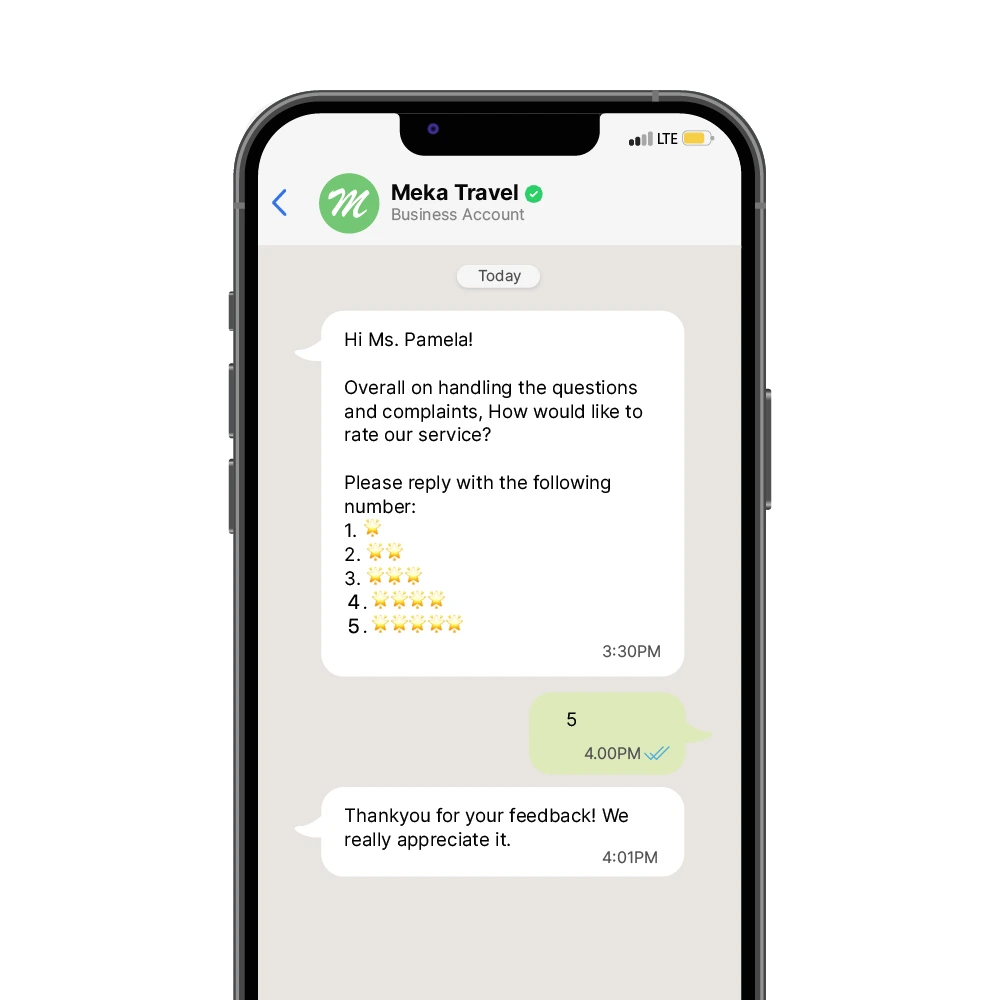 A luxury resort utilized the WhatsApp Business API to verify their business account and display the green tick symbol.
This verification instilled confidence in customers, assuring them of the resort's authenticity and professionalism. The green tick verification increased trust and credibility, increasing booking conversions.
Also Read: How to get WhatsApp verified badge
8. Indirectly Generate More Significant ROI by Creating More Bookings
By leveraging the features of WhatsApp API for Travel, businesses can create a seamless customer journey, leading to increased bookings and higher returns on investment (ROI).
Streamlining Bookings and Payments
A travel agency integrated the WhatsApp API Chatbot into their booking process, allowing customers to inquire, book, and make payments directly through WhatsApp.
The agency reduced friction by simplifying the booking and payment process and providing customers with a convenient and efficient experience.
This streamlined approach led to a significant increase in bookings and, consequently, greater ROI.
Also Read: 15 Benefits of WhatsApp Business API
---
Conclusion
The WhatsApp API has undeniably transformed how the travel and hospitality industry communicates and engages with customers.
To unlock the full potential of the WhatsApp API for your travel and hospitality business, consider partnering with industry-leading providers like Mekari Qontak, who specialize in delivering seamless WhatsApp API solutions.
Contact us to learn how you can leverage this powerful tool to enhance your business growth.
References: