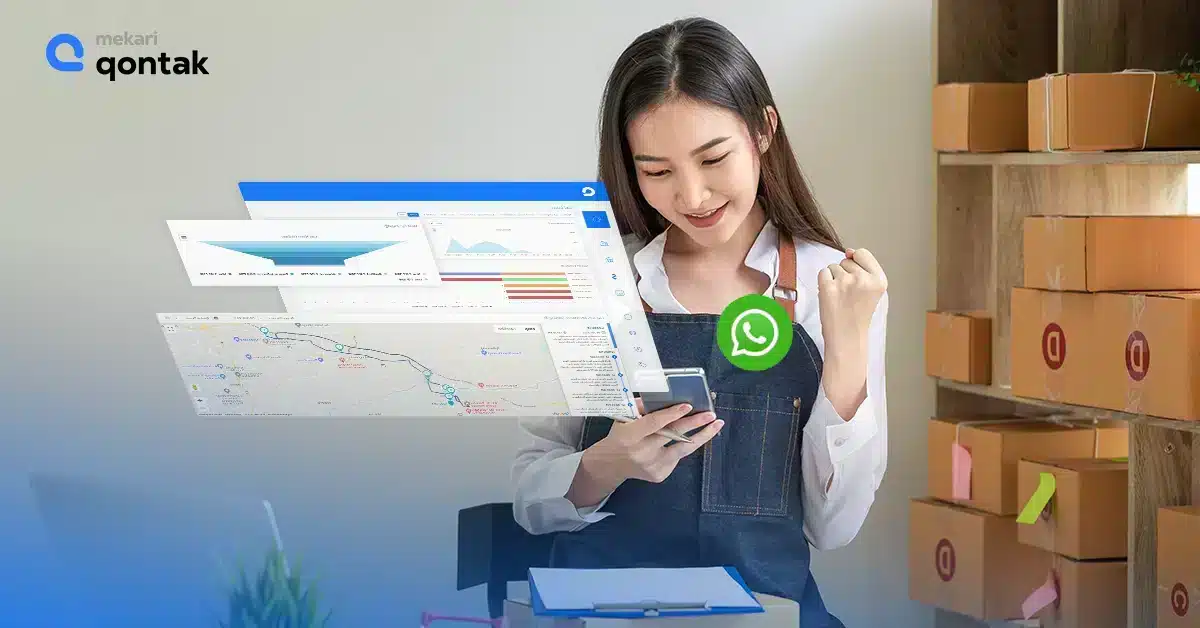 Are you looking for a way to improve your customer experience and drive sales? Look no further than WhatsApp CRM.
Imagine a single platform where you can manage your customer interactions, track your engagement, and provide real-time support.
With WhatsApp CRM, this dream can become a reality. Empower your business to connect with customers in a new and exciting way.
Let's find out more about WhatsApp CRM below!

---
What is WhatsApp CRM?
WhatsApp CRM refers to integrating the popular instant messaging app WhatsApp with a customer relationship management (CRM) system.
It allows businesses to communicate and interact with customers through the app and manage customer inquiries, support tickets, and other customer-related interactions.
The integration provides a convenient and accessible way for businesses to communicate with customers and improve customer experiences.
On the other hand, the WhatsApp Business API can be used for this integration and also includes advanced features such as integration with sales and customer service applications to enhance customer service and drive business growth.
WhatsApp CRM aims to develop customer relationships, increase customer loyalty, and drive business growth.
Also Read: Understanding What is CRM and What is WhatsApp Business API? – A Complete Guide
---
How does WhatsApp CRM work?
Can we integrate WhatsApp with CRM? The answer is, of course, you can! However, how to use WhatsApp for business CRM?
WhatsApp CRM integrates the popular messaging platform WhatsApp into a business's CRM system, allowing seamless communication between the business and its customers.
The integration includes contact integration, automated messages, tracking and managing customer interactions, providing customer service, and managing customer data.
With WhatsApp CRM, businesses can improve customer communication, reduce response times, increase customer satisfaction, and drive sales and revenue.
The system detects customers calling the business's WhatsApp number, converts the message into a ticket, and saves all conversations as customer data in the CRM.
The Chatbot feature on the WhatsApp API provides automatic replies and helps customers solve their problems. If necessary, customers can reach the customer service team for help.
---
Why is WhatsApp CRM important for business?
WhatsApp CRM is important because it can help businesses communicate personally, conveniently, and cost-effectively with customers.
It offers real-time communication, personalization, and the ability to reach many customers.
The integration allows for automated messages, customer service, customer interactions, and data tracking.
With WhatsApp CRM, businesses can improve customer experience, increase customer satisfaction and boost business growth.
---
Benefits of using WhatsApp CRM
WhatsApp CRM offers several benefits for businesses looking to improve customer relationships and provide better customer experiences.
Some key benefits include:
Convenient Communication: Provides an easy and accessible way for customers to reach out to businesses.
Faster Response Time: Improves customer satisfaction by providing real-time communication and quick resolution of inquiries and issues.
Personalized Interactions: One-on-one interactions through WhatsApp help build stronger customer relationships.
Improved Customer Satisfaction: Better customer service and support increase customer satisfaction and loyalty.
Data Management: Store and analyze customer data to gain valuable insights into customer behavior and preferences.
Cost-effective Solution: No need for additional hardware or software, making it an affordable option for businesses.
Wider Reach: With over 2 billion monthly active users, WhatsApp CRM provides a platform to reach many customers.
Enhanced Customer Service: 360-degree view of customer information and advanced features to improve customer service.
Automatic Identity Detection: Automatically detects and stores the identity of prospects or customers from WhatsApp.
Conversation History Storage: Saves conversation history and progress from WhatsApp in the CRM system.
Improved Sales and Customer Service Process: Manages sales and customer service process flow.
Analytics Reports: Provides sophisticated analytics reports to track CS team performance, response time, and performance of individual agents and the business.
---
WhatsApp CRM features
WhatsApp CRM offers several superior features that make it an attractive option for businesses looking to improve business growth and provide a memorable customer experience.
Some key features include:
Business Profile: Provides information about business identities, such as store name, description, address, category, and hours of operation.
Auto Reply: Provides an automatic response for every customer interaction, such as Away Messages, Greeting Messages, and Quick Replies.
Green Tick: A sign indicating that the WhatsApp account is verified and has a legal business. Learn more about green tick verification here.
WhatsApp Chatbot: A virtual robot that answers automated messages and forwards messages to available agents. Find more about how to send WhatsApp chatbot here.
Multi-user: Access to one WhatsApp account by multiple agents on multiple devices simultaneously.
Rotator: Automatically allocates agents fairly for each incoming message.
Blast WhatsApp: Send blast messages to thousands of contacts at once.
Lead Management: View and manage potential customers over a certain period.
API Integration: Connecting business WhatsApp accounts with other popular applications on a single platform.
Statistics Reports: A dashboard displaying activity reports on WhatsApp, such as messages sent, failed, read, or pending and others.
---
How to integrate WhatsApp CRM?
Ready to take your customer experience to the next level? Here's how to get started with WhatsApp CRM:
Step 1. Get the WhatsApp Business API through a Business Solution Provider
To use WhatsApp CRM, you'll need to use the WhatsApp Business API.
This differs from regular WhatsApp because it allows for integration with other tools and has more advanced features.
You can get the WhatsApp Business API through a Business Solution Provider (BSP) like Mekari Qontak.
Step 2. Verify your business with Facebook Business Manager
This step is to make sure your business meets WhatsApp's requirements.
You'll need to verify your business data, including your company name, website, email domain, and business license. Mekari Qontak can help you with this process.
Step 3. Activate your WhatsApp number and complete your business profile
Choose a phone number to use as your business number on WhatsApp. This number can't be changed later.
After you've verified your business, you'll see a green checkmark next to your business name when you send custom messages.
Then, fill out your business profile with detailed information, so customers can get to know you before asking questions.
This excellent opportunity to showcase your brand includes essential details like operating hours and product catalogs.
Step 4. Request CRM Integration
This is an important step in maximizing the benefits of using WhatsApp CRM for your business.
To request the integration, reach out to Mekari Qontak and let us know that you would like to integrate your WhatsApp Business API with their CRM system.
Our team will guide you through the process and provide you with the necessary information and resources.
Once the integration is complete, you will have access to all the powerful features of WhatsApp CRM, including automatic replies, chatbots, multi-user access, lead management, and much more.
Also Read: WhatsApp Integration: How to Integrate WhatsApp API into Your Business
---
What's next?
WhatsApp CRM is a valuable tool for businesses looking to improve customer relationships and provide better customer experiences.
It offers a range of features, including business profiles, automatic responses, chatbots, multi-user access, lead management, API integration, and more.
With the help of a BSP WhatsApp such as Mekari Qontak, integrating with WhatsApp CRM has never been easier.
Mekari Qontak offers a comprehensive package that takes care of all the necessary steps so that you can focus on your business.
Take advantage of the opportunity to take your customer service to the next level with WhatsApp CRM. Get started with Mekari Qontak today!