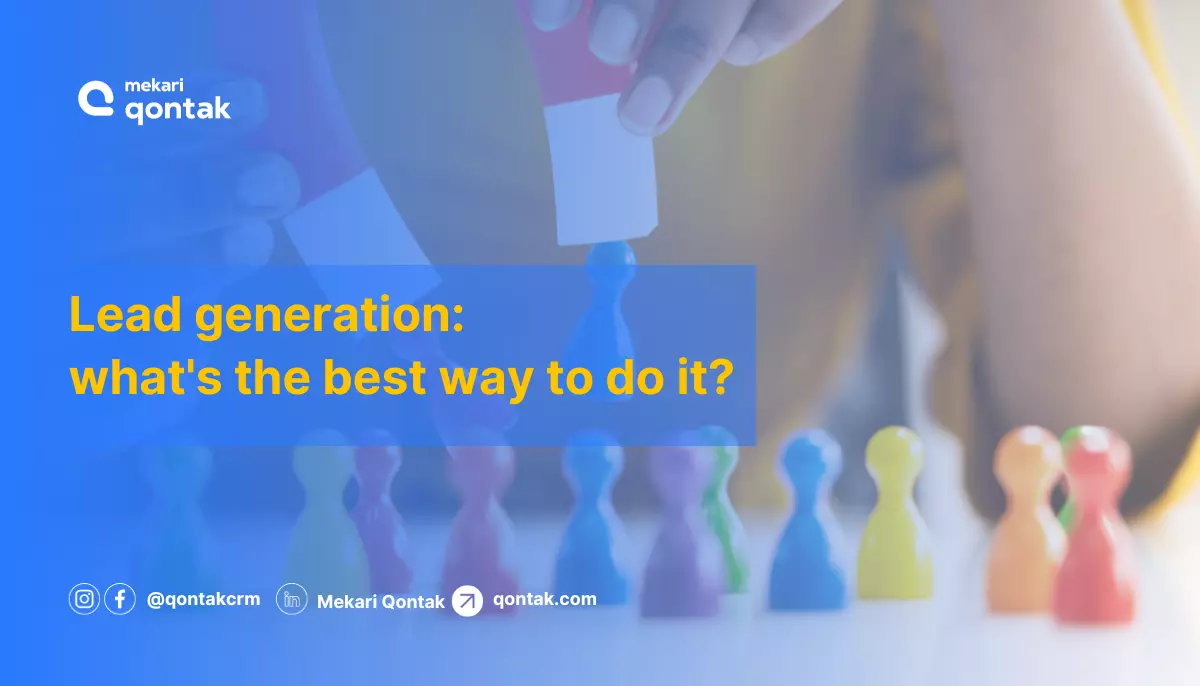 In the marketing industry, lead generation is nothing new. It plays a crucial role in developing relationships with people who are interested in becoming your customers.
To get customers to purchase your goods, you must put in extra effort to get to know them. That effort is known as a lead generation strategy.
In this article, we will explore lead generation and the right marketing techniques to generate lots of customers. Read more below.
What is Lead Generation?
A lead is someone who has shown interest in a company's product but hasn't decided to buy it yet. That's why lead generation is important.
Lead generation is the process of attracting individuals or companies who are interested in your products or services. The process involves online marketing to gather the lead's information the sales force needs.
For example, people find your product through your social media. Then, they want to find out more about your product by clicking on the call to action (CTA). Personalized call-to-actions perform 202% better than basic CTAs.
That CTA link directs them to a specific website used to collect lead information. They need to fill out a demo form to get a free trial. Their data is automatically recorded by the system.
Once prospects are identified, their data can be used by the sales team to contact them with personalized marketing.
Why is Lead Generation Important?
Lead generation plays an important role in gathering information about potential buyers. It can be used to develop marketing or promotion strategies according to the needs of potential customers.
Lead generation also has other important roles in business:
Collect your brand-related data based on prospective perspectives.
Targeting the right prospects
Build brand awareness among prospects who have shown interest in your business.
Increase customer loyalty to the brand.
What's the Process for Generating Leads?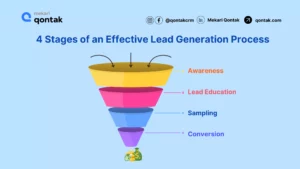 It's time to go through the steps of acquiring a prospect after you realize how important lead creation is.
There are four stages to the lead generation process. Every single step involves a lot of effort to maximize lead potential. The processes following are
The first step in lead generation is to make people aware of your product or brand. It is important to develop your networking, public relations, advertising, and content strategies.
These marketing strategies are among the most effective means of drawing in leads. This is due to the fact that most consumers discover the brand via search engine results or referrals.
Once awareness is created, you must educate your leads about your products and services. You can use case studies, testimonials, project history, or other events to build their trust. In addition, you can offer a demo product to enhance customer experience.
Read more: How to Improve Your Customer Experience 
The third is that the potential client won't think twice about using your product. Offering a complimentary trial of your product can benefit you. It's your opportunity to provide more than anyone could ever think of.
The last process of lead generation is a conversion of leads to sales. At these steps, your job is to make sure the prospect can see how they can get the desired results with your solution. It is important to build trust with leads during the sales and marketing process.
What are the Types of Lead Generation?
Lead generation divides leads into four categories according to quality to make it simpler to identify them:
1. Marketing Qualified Lead (MQL)
MQL refers to potential customers who have engaged with your marketing campaigns but are not yet prepared for sales calls.
An example of MQL is an audience that fills out a sales form on your website. However, they may not necessarily be interested in purchasing what you have to offer.
2. Sales Qualified Lead (SQL)
A sales-qualified lead is a prospect who shows interest in being a paying customer. An example of SQL is an audience that fills out a form to ask questions about your product or service.
3. Product Qualified Lead (PQL)
A product-qualified lead (PQL) is someone who is interested in becoming a paying customer after using your product for free.
A PQL example is a prospect who follows your product trial. Afterward, he asks about features that are only available through payment.
4. Service Qualified Lead
A service-qualified lead is one who shows your support team that they are interested in becoming a paying customer. One example of a service-qualified lead is a prospect telling the support team to increase their product or service offerings.
How to Measure Lead Generation Efforts?
Lead generation effectiveness can be assessed by calculating the customer acquisition cost (CAC). An excessive cost of client acquisition is a sign that lead generation isn't working as it should. As a result, many of the leads that are generated cannot be converted into sales.
In the opinion of Jordan T. McBride of ProfitWell, a business cannot remain viable if the amount spent on gaining consumers is greater than the lifetime value of those consumers. CAC should ideally be no more than 33% of the lifetime value of a customer.
You can calculate customer acquisition cost by using this formula:
Customer Acquisition Cost = (Cost of Sales + Cost of Marketing) / New Customers Acquired
Example
Suppose the SaaS company spends $30 million on marketing campaigns. After the campaign, the company got 5,000 new customers.
Every year, the company spends an additional $50 million on the production and maintenance of new customers.
CAC= (S50 million +$30 million)/5,000= $16 thousand
To gain one new customer, the SaaS company has to spend $16 thousand.
How to Calculate the ROI of Lead Generation Campaigns?
One of the lead generation attempts is to do online marketing. Meanwhile, online marketing requires a budget to create a campaign.
To determine the size of the campaign, the value can be calculated using ROI (return on investment).
ROI is the percentage of profit you can earn after deducting all expenses spent on your campaign. Here is a formula that can be used:
ROI = [(Total Revenue – Total Cost) / Total Cost] x 100%
Example:
The automobile businesses utilize an investment of $100 million for online advertising.
Then, they made $150 million from the advertisement.
[(150-100)/100] x 100 = 50% is the ROI.
In other words, the ROI of a lead generation campaign for an automobile company is 50%
How to Improve Your Lead Generation Initiatives?
When the ROI and CAC have been calculated, it's time to update your lead generation plan.
Here are some tips for improving lead generation:
Look Over your Metrics for Lead Scoring
The first thing you should do is examine the metrics utilized for lead scoring. Lead scoring is the process of evaluating a prospect based on their potential to become a customer.
For instance, an excellent prospect who expresses interest in purchasing will receive a rating of 5. On the other hand, prospects who have clicked the website's CTA will receive a rating of 1.
Sales and marketing teams can prioritize high-value leads with the use of these ratings. As opposed to this, trading a low-value prospect could involve more work.
Review of Recently Current Deals
Apart from lead scoring, you also need to look at recently closed deals. You can analyze their journey, such as which marketing channels generate the most sales or whether they're characteristics.
Then, look for similarities between each lead that converts. Use the following matrix to make analysis easier:
Source of acquisition
Time on page
Engagement
Early funnel conversions (e.g., downloads, webinar attendance)
Company size
Location
Demographics
Understanding the common characteristics of leads makes it easier for you to see which lead generation is successful. After that, you can develop a marketing strategy to improve it.
Align Marketing and Sales Loops
Making sure the marketing and sales teams are in sync is the next step toward boosting lead creation. They must speak with each other at least once a month.
The purpose of this is to review the matrices that must be measured in order to assess a campaign's success.
Such a: Does the sales team want to use any particular KPIs, for instance, to filter potential leads when the marketing team distributes campaign promotion? Or perhaps they have better ideas on how to make the campaign better?
With weekly or monthly feedback from sales, marketing can modify lead generation initiatives in the future to improve the quality of leads sent to sales.
Manage Lead Generation Easier with Mekari Qontak
CRM software converts prospects into dedicated clients, streamlines lead management and personalizes conversations.
If you are ready to optimize your lead generation efforts, Mekari Qontak offers a powerful CRM solution and is ready to help you! With automation, transparency, efficiency, and proper evaluation, this is the key to successful lead generation.
To maximize the effectiveness of your lead generation strategy, claim your Free Trial of Mekari Qontak CRM.
Resources